The Completer Pathway of CTE offers Kenwood Students Valuable Career Exploration
All Baltimore County Public School students must fulfill a completer program in order to meet graduation requirements. Students can choose the college path which is two credits of a world language and any two electives, which if in a magnet program can be an internship related to their magnet. A second option is the career path which requires four courses in a career-related Career and Technical Education (CTE) program.
But the options are actually broader for Kenwood students. Kenwood High offers 20 career experience programs to their students between their two magnets (International Baccalaureate Program (IB) and Sports Science),  nine CTE completer options, and the nine different program options they can choose to take at Sollers Point High for half of each school day. Transportation is provided from Kenwood. Kenwood offers more career pathways for students than any other BCPS school except Patapsco High which is a full magnet that also provides transportation to its students to Sollers' programs.
Every student must complete at least one completer pathway for a total of 4 credits towards graduation. Students may complete more than one completer pathway if interested or take other completer classes as electives. The CTE options at Kenwood High School include Computer Science and Engineering (features coming soon), College and Career Research and Development and Work Based Learning , Culinary , Child Growth and Development ,  Carpentry  , plumbing, Printing and Graphics, Junior ROTC(though a career prep program not a completer option), and Aviation.
Participation in any of the nine CTE completer programs or Sollers' ten programs meets the completer path graduation requirement. Students in the magnet programs often choose the college-ready path that includes World Language classes with the option to take an elective internship in a field related to their magnet.
Completer paths are a great way for students to explore career interests and even gain career field experience before they leave high school,. Some students also earn Community College of Baltimore County (CCBC) credits through the College Promise initiative, and they leave Kenwood with "Advance Standing" which makes them career ready for the workforce.  All CTE programs come with a certificate or license of qualifications that makes them a "direct career pathway" to the workforce because they are career employment based and there's a need for workers in those industries. In fact, BCPS CTE Supervisor Alicia Fales shares that Baltimore County employers are actually interested in finding and recruiting 10th graders as they then gain experience and skills through their four CTE classes. Internships that students do in high school give them a head start on working for local employers. A benefit of full time employment with many companies is tuition reimbursement for courses taken as they work and advance their credentials in the field.
Some students even choose to do what's called a dual completer in which they do the four credits with a CTE program to be career ready and take the two world language classes with two electives of their choice to be college ready; therefore, they leave high school college and career ready. As Fales shares, "Not everyone goes to college, but everyone will go to work." This sentiment is quite true as no matter what our college plans, we all plan to join the workforce at some point in our lives whether it be right after high school, during college, or after college.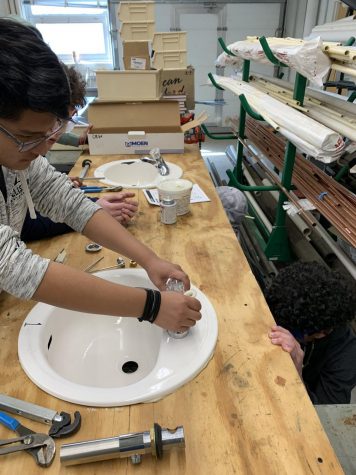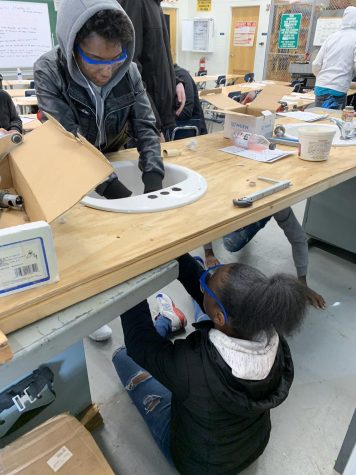 Every year Kenwood hosts a Completer Fair for ninth and tenth graders to explore the various CTE career explorations opportunities offered here at Kenwood. This year nearly 800 freshmen and sophomores attended. During the fair, CTE teachers and students provide a presentation at a table so that students attending can learn what the various programs KHS offers to students. The basis of the presentation is to demonstrate the best parts of each particular completer path to elicit interest from students so they can choose a career interest. The fair provides the opportunity for students to see what it takes to be a part of an interested profession from students who are currently taking part in the program. KHS CTE Department Chair Mr. Grahe shares, "I love working with students in CTE. I think some of our best and most authentic experiences in education come from CTE. There is no better experience for me than placing a student in a career experience."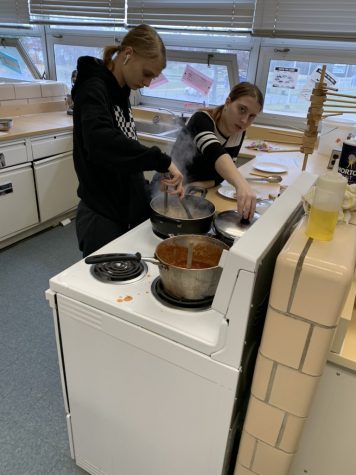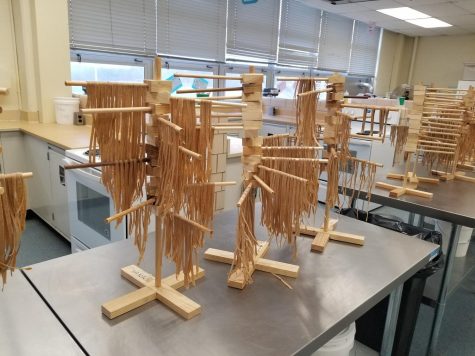 CTE prides itself on authentic learning. Everything from the Completer Fair, the Mock Interview, the STAR Fair that typically occurs in the spring, and all of KHS CTE classes, speaks of authentic experiences. Students get a great opportunity to build shelves, install copper pipes, teach Pre-K kids, create meals, complete graphics and printing jobs for the Kenwood and BCPS community, learn how to fly an aircraft, and learn  "essential skills" (workplace readiness or soft skills) that every person needs to be successful in any career.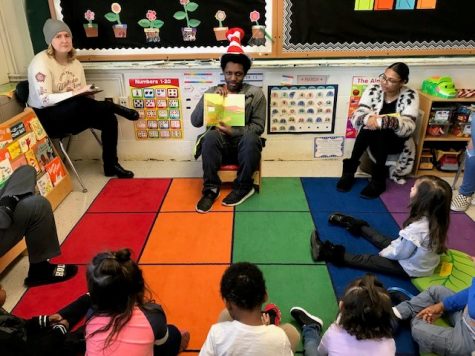 Kenwood CTE students have found great benefits in the various programs offered here at Kenwood. Gavin Dean, a junior carpentry student shares, "The program offers real hands-on experience to create projects that are for more than just a grade in a class." Our carpentry class is most well known for the impressive Hollywood style Kenwood sign they built in front of the school building last Spring.
Kelly Zamudio-Rosales who is part of the College & Career Research Development (CCRD) and work-based learning program shares, "You gain a real look of the reality of working with the public and experiencing people's attitudes. It's also given me a sense of the competition that exists in the workplace  which motivates you to do better more efficiently in a fast-paced environment with higher expectations."
Aviation student Chloe Kuoagou is grateful for the opportunity she has to work towards her career goals right here at Kenwood. She hopes to one day be a pilot in the Air Force before taking advantage of the college tuition opportunities with the military to pursue her education to become a cardiologist. "I've wanted to fly a plane ever since I was a little girl, and the Kenwood Aviation program is helping me work towards that goal."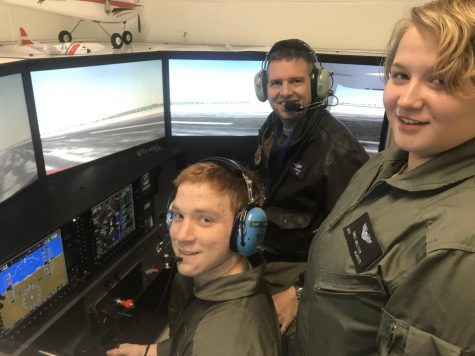 Additionally, students not only get experience in a career field of interest but they can continue in most of these career pathways at CCBC for (nearly) free! The College Promise initiative provides a great opportunity to further students' education and training in just about any career. Moreover, many of our technical programs offer apprenticeship opportunities to further training and experience. Kenwood will also be offering Youth Apprenticeship and School to Apprenticeship opportunities in the near future.
There are so many opportunities for BCPS students to prepare for the working world after graduation here at Kenwood High. These numerous career-related experiences continue to provide our Bluebirds with authentic learning for the future.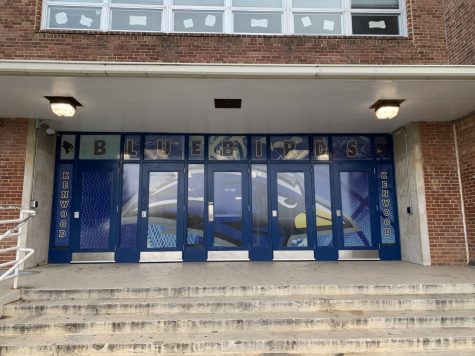 About the Writer
Loveth Ajayi,
Loveth has written for the Eye of the Bluebird both her junior and senior year. She hopes to attend either University of Maryland Baltimore County or Towson...