Work Based Learning Opportunities at Kenwood
Career College and Research Development (CCRD) and Work Based Learning (WBL) has been around in the education system of the United States for some time.  Although, the name of the course may have changed over the year,  CCRD and Work Based Learning, still serves the same purpose it always has to introduce students to different career options and help prepare them for the transition from high school.
Though the course can be offered to students from 9th thru 12th grade, seniors seem to benefit the most from the course. Many hope to find their purpose to pursue before leaving high school, and CCRD and WBL can provide students that opportunity.
One of the great benefits of this course is it's driven by students' interests and allows students to focus on their career paths. Sometimes students will at first think they're interested in a particular career path because of the income associated with it; however, CCRD and WBL gives them a new perspective to evaluate and experience careers they may have an interest in.
The course enables the students to realize the relationship between their interested career paths and income through widening their knowledge and mindset of the real working world. The course program helps students to plan their career and financial goals.
Ms. Fisher, Kenwood CCRD teacher, has brought in various employers on what she calls "Fisher Fridays" to speak to CCRD students about the various career opportunities that are available. Guest speakers from the MD Insurance Commission came in October and Maryland Occupational Safety and Health guest speakers visited in November. Guest speakers about employment opportunities around Maryland will return in February. "These guest speakers are enlightening our CCRD student to the various employers and agencies in regards to their career exploration," shared Ms. Fisher.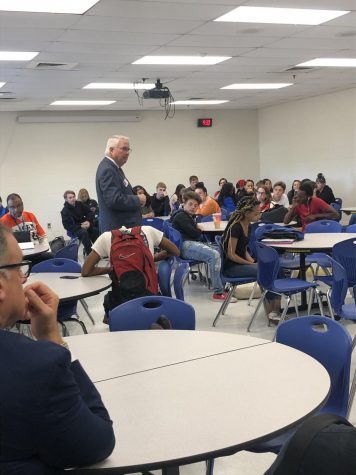 Students who complete the CCRD and Work Based Learning earn college credits. Many of the students also earn full internships or job offers after high school. There are many student benefits to the program such as:
Strengths of the course
College readiness: Students become less nervous about the challenges they may face at college and are prepared with strategies they can use to improve the skills needed in a higher institution.
Workforce: It prepares students for the real world of work and teaches good work ethics needed to be a productive employee. It also gives students insight into what employers are looking for in employees.
Importance of education: It helps students see the advantages education offers today.
Many Kenwood students have found the program valuable to their employment future. Junior Brianna Anderson who is taking the CCRD course shared, "It helps me learn and evaluate real world issues in the work environment."
Senior Kelly Zamudio-Rosales stated, "The program really does teach you about real life things like filing for taxes, managing your money, and learning to save, and the laws and regulations of the workplace." Once she moved from the CCRD portion of the program to the WBL part of the program her eyes were opened even more to the real experiences of work. "You gain a real look of the reality of working with the public and experiencing people's attitudes. It's also given me a sense of the competition that exists in the workplace to which motivates you to do better more efficiently in a fast paced environment with higher expectations."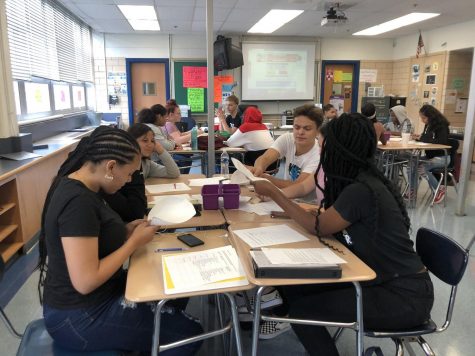 Students in the CCRD and Work Based Learning program have found the courses valuable for their future? They have the exposure to different career options and the opportunity to gain skills to take anywhere they go. "I think students are encouraged to evaluate their own interest, strength and weakness and make a plan for their future that reflect their understanding of themselves," shared Kenwood WBL coordinator and teacher, Mrs. Sheggrud.
If students are unsure of what careers to pursue and want a glimpse of the real world that awaits outside the walls of high school the CCRD/WBL program with Mrs. Sheggrud is the program to check out at Kenwood. They will learn what employees are expecting of them.
About the Writer
Loveth Ajayi,
Loveth has written for the Eye of the Bluebird both her junior and senior year. She hopes to attend either University of Maryland Baltimore County or Towson...