AVID: An Experience that Goes Beyond High School
AVID (Advancement Via Individual Determination) is a national program whose mission is to close the opportunity gap by preparing all students, regardless of race, gender, income level, parent's education level,  for college readiness and success in  high school and beyond in a global society.
Kenwood's Ms. Komorowski has been preparing and challenging students for six years now as the AVID coordinator. She shares, "I enjoy having the ability to support students in their life as a whole, not just being their teacher in one content. Working with the students for four years gives those in the program the ability to form bonds both between the students in the program and with the teachers that will last even after graduation." She also shares how she thinks AVID benefits students individually. "AVID benefits students because it gives them the skills to not only be successful in high school but in their colleges and careers," she adds.
Students that have been fortunate to attend Kenwood's AVID program recognize the value of it often after they've left the nest and ventured onto college. AVID Alumni recently returned to campus back in September on September 17 to visit with current AVID students to let them know how the work they're doing now in AVID can adequately prepare them for their futures.
Antonio Robinson Class of 2020 found AVID's time management skills crucial in college.  "AVID really drilled into me the importance of time management. I feel like AVID really did help me add tools to my toolbox that definitely came handy in those moments where I didn't necessarily know exactly what to do," he shares.
AVID isn't all just academic business though. Being a part of AVID is part of being a school family like any other school club or organization. On October 24 AVID alumni participated in an AVID vs SSA (Sports Science Academy) kickball game to raise money towards college scholarships for current and future AVID and SSA students. Though AVID did lose the game to the SSA students, they managed to raise $610 towards scholarships. AVID also participates in student service projects like the one last year where Ms. James' AVID 12 students organized a donation drive for local shelters during the peak of the pandemic.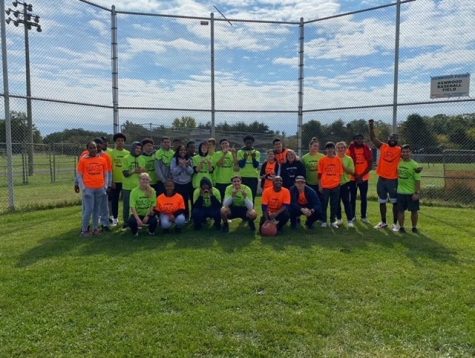 Working so closely with students, through their highs and lows, both academic and personal, allows AVID teachers to form bonds that last for years after their students graduate. Ms. Komorowski, "Our alumni often check in, invite us to events, reach out for assistance in college or life, and even work with us. The AVID team gets such joy from hearing, celebrating, and sharing all their successes long after they have left KHS which helps motivate us to carry on working with our newest AVID family members!"
If you want to go college and feel you need support on getting on track to make it happen AVID might be the program to help get you where you want to be with your college and career goals.
Check out our other AVID Stories:
Keonte Smith: Kenwood AVID Scholar Finds Success Beyond BCPS
AVID Provides Support for Students to Pursue their College Ambitions