Kenwood School Clubs have a History of Providing Students an Opportunity to Make Change
As the world and community continues to change and grow so do the current generation of teens. They see the issues occurring around them and wish to make a difference. But they don't know how, and it's easy to think when you're young and in school that you can't make a difference.
But at Kenwood High School in Baltimore County, several school organizations, lead by various teachers, have given students the opportunity to engage in making change and a difference in not just their school community but sometimes beyond the halls of their school.
Through the many programs school offers for students to get involved, plenty of students use the opportunity to be inspired and to inspire others.
For Egypt Hodges Kenwood's art program's participation in the Kindness for Paws campaign is a great way for her to get involved in helping the Maryland SPCA with homeless and sheltered animals. She shares, "I was able to use my talent and passion for art to help raise awareness and donations for animals in need."
For Kenwood junior Bree Tomlinson it's more the youth and young scholars starting school during a pandemic that she's concerned about helping. As part of Kenwood's Kenwood Cares Program, started by English teacher Sam Fulcher, Tomlinson was part of an opportunity to promote literacy and a love of reading with young BCPS elementary students during virtual learning. She adds, "I was able to encourage them to enjoy reading and see the value in education."
Some programs such as the Student Government Association previously advised by Spanish teacher and IB coordinator Lacey Williams give students the opportunity to take the lead amongst their peers to address the concerns and issues of their school or their time. Senior SGA member Amyah Davis coordinates efforts to address mental health and create positivity during these challenging time of the pandemic when her peers were struggling with school campaigns like their Kindness Calendar, Spirit weeks, and Bullying Prevention week. Davis adds, "The 'mind over matters' campaign is so important to promote because it's you telling yourself that your good enough and not letting someone else tell you differently, it's knowing what your worth and it's important to promote that to students. Mental health matters and it's time to promote wellness for students and staff in Baltimore County and even world wide."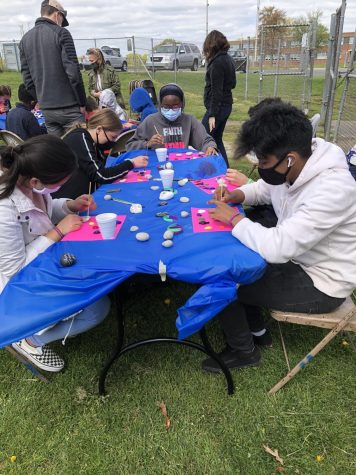 The concern for advocacy and change when it comes to mental health for themselves and their peers isn't just addressed through SGA's action, but as part of Kenwood's International Baccalaureate program (IB). Kenwood 2022 graduate Bryn Lang was also concerned about the rising mental health crisis amongst her peers. As part of her IB CAS project she created the Kindness Rocks Campaign. It was a reminder to "stay positive and spread kindness," Lang shares.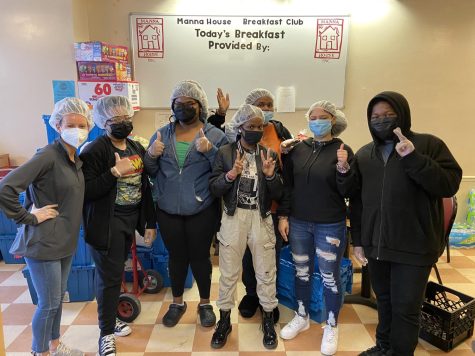 For some, the change they lead in high school lasts past their time there. 2020 Graduate Myasiah Bilola was the first President of the Kenwood Cares Club and was part of beginning the tradition of serving in soup kitchens.
One of the biggest legacies of change left by graduates would be through Kenwood's Environmental Nestwork (or KEN Club). What started as just a class project about the environment, under the inspiration of a teacher and environmental club advisor, Mr. Woodward, Ashby Gambrah, Kenwood 2021 graduate, created a composting program that later become a pilot program for the whole Baltimore County Public School system with now five schools piloting the program. She wasn't the only one to use Kenwood's environmental club to promote positive change. To inspire others to care about the environment 2021 graduates Jesie Jumawid and Haylee Hylton pained a mural in the courtyard.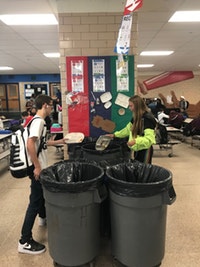 Students like this have worked hard with their teachers to strengthen and build their school community, taking such small steps but creating a big impact on the community. School organizations like these give students the opportunity to feel empowered to make change as they leave school behind to take an active role in the future of their communities. Though many of these students have graduated and taken their motivation for change onto the next level all these clubs still exist here at Kenwood.
Whether you want to make change with the environment, for animals, about mental health, for those in need- there's opportunity in your school clubs to make a difference! Join them today and be the next one to bring change!