IB Student Bryn Lang Spreads Kindness with Painted Rock Garden at Kenwood High
Kenwood IB junior student Bryn Lang organized a rock painting event in collaboration with the Joshua York Foundation.called Kindess Rocks for a rock garden here on Kenwood's campus for her CAS project.
As an IB School, CAS is a required component of the IB Diploma. "Students have to choose an idea from creativity, activity, or service and run a project of their own design and execution," shares Kenwood CAS coordinator Ms. Forman.  Students learn new skills and work through obstacles as they plan it out. It can  can be almost anything that the student wants and they complete reflections after the project ends in order to demonstrate their learning of the process of taking an idea to a completed product.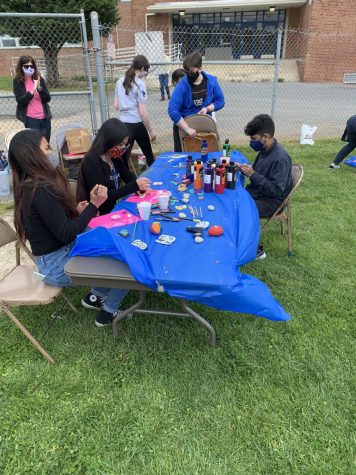 On Saturday, April 17 from 11-1, students and adults gathered to help paint rocks for the rock garden. All supplies were provided and "all participants were allowed free rein with their artistic expression," shares attendee Ms. Single.
Lang's purpose with this project was to unite the community through a fun event. She shares, "The purpose of painting the rocks is to spread kindness and to promote awareness for suicide prevention, which is also the main purpose of the Joshua York Legacy Foundation which is collaborating with me for this project."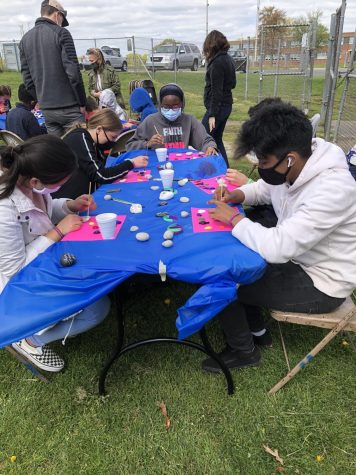 Lang brought supplies to participants and took care of overseeing that finished pieces dried. The Joshua York Legacy Foundation was in attendance as well, giving out silicon bracelet and raising awareness for suicide prevention.
Rosedale students also paired up with Lang to paint rocks for the Josh York Legacy Foundation and dropped them off Saturday to add to the Kenwood Kindness Rocks garden. The rocks painted on Saturday now sit in a painted rock garden at KHS. Lang adds, "So that the whole community can enjoy the effort put in and remember to stay positive and to spread kindness!"