Building a Racing Career while in High School
Now a senior at Kenwood High, Jalen Dhanoolal has done more than gain an academic experience these past four years. He's spent a lot of time on the race track. His love for racing started at a very young age when he and his dad attended a race event. He watched his dad race and saw the fun and the energy of it. He wanted to follow in his father's footsteps.
He started his racing career at just age 9 when he was in an amusement park and joined a racing event with other kids. He says, "I started racing against adults in 2018." He won that event and continues racing to this day.
He believes that some of the best things about racing is that it involves working as a team, having a set skill, speed, and a lot of determination to keep trying no matter the struggle. He's learned the, "the more confident I am the better my racing is. I have learned from my racing mistakes." While there might be hard times that come with racing to him the benefits outweigh the struggle greatly.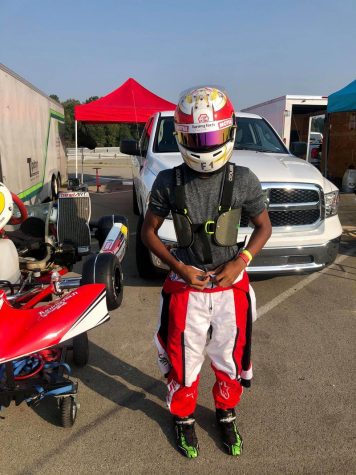 Although, he loves racing he's aware of the risks. One of the major ones is the risk of injuries, possibly serious injuries. Many of these cars can easily crash into walls and even other drivers' cars as well. Many people don't notice that these drivers put their lives at risk to do what they love and entertain the people watching. Many drivers have gotten injured and some have even lost their lives to racing.
Jalen also thinks that racing has greatly improved over the years though to decrease the risk of serious injury. They started to change when the tragic and incredibly sad death of Ayrton Senna happened. His death, although sad, helped persuade the inventors of the cars to remodel them to make them safer for the drivers and the nearby crowds of people watching the race. People started these remodels of the cars in the late 1990's. "If you look at today's race cars and helmets, you'll see they have improved since the 1990's. The helmet now has a lot of padding which causes less to almost no injures," shared Jalen.
While the cars were becoming safer, they were also becoming faster for the driver. So now they are both safer and faster, which is better is the drivers and the audience of people watching the race.
Racing itself is a difficult sport but doing it while so young in high school is even more stressful. But Jalen manages to do it. Mrs. Cooper had the pleasure of teaching Jalen his junior year at Kewnood. "Jalen is a standout. He's a good student, works with ease with others-is sweet, attentive, and intuitive- and quiet. Until you get him talking about his other life- his racing life. Then he truly lights up and beams. He has applied so much logic and crafy conniving into squeezing his racing and fitness regime into his life as a student. Jalen shows the possibilities of talent and hard work every one of us possess but rarely tap," shares. Mrs. Cooper.
He keeps up with his classwork and his commitment to Kenwood's tennis team. He is a great athlete and an excellent student at Kenwood. We all wish him the best in the future.