Kenwood Staff Goes the Distance to Stay Connected through These Three Months of Remote Learning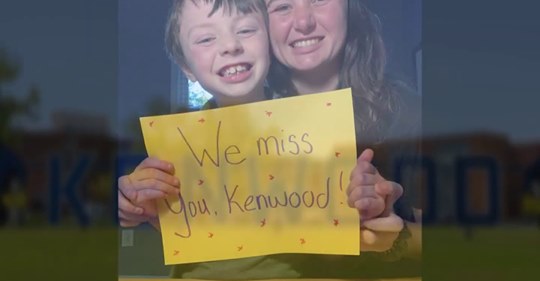 I couldn't have asked for a better school to attend, especially during these times. Kenwood's staff has made great efforts to let their students know that they are loved and missed.  Through all of this the teachers and staff have been real heroes. They continue to be amazing even though everything is new to them. Sure, we used our devices in school but never like this. Our teachers are always busy, and yet they still make time to check in on us every week.
Our wonderful SGA has hosted spirit weeks to help keep our spirits up and give everyone, students and teachers alike, a way to stay connected.  My most memorable spirit week was probably the faculty baby picture game. I thought it was so fun and trying to guess which baby was which staff member had me interested and checking in each day to see if I got any right.
It was more than just me that recognized how our Kenwood staff rose to the challenge of the times. Junior Desiree M says, "My teachers have reached out to explain the all the new grading changes and were checking in on us and our families." The librarian Ms. Magnuson stayed connected by giving us access to an online library and has even created a group just for that, and Ms. Jannotti created a Photo Gallery Newsletter of our ELA department with all of their beloved books. Junior class advisor, Mr. Erdman, gives juniors a question of the day everyday to keep them engaged with their fellow class mates and class advisors in their class schoology group.
Almost three months into this distant learning experience, and it'd be easy to lose touch between teachers and students but Kaylee Eckart testifies, "One teacher in particular that has stayed connected with me is Ms.K. If she notices I start to slack off on my work, she will email me and check in to make sure everything is okay."
Students have found a new appreciation for their teachers through all of this. "Students have been truly appreciative of our efforts during these times," shares Mrs. Glenn. Hunter Maddox says "All of the teachers seem to be in contact with me every week and make sure everything is going well with me for school, work, and family." It has been apparent in these trying times that Kenwood staff truly cares and misses their Kenwood kids. Ms. Rodier adds, "All the students that have contributed  have done a great job all year and we appreciate all the efforts 'off campus'!" Staff efforts have extended beyond schoology and into their student and the community's social media world as well.
Mr. Powell would always do a morning and afternoon announcement for us almost every day to keep us all updated and connected. But for students missing Mr. Powell's daily "Goooooooooood morning," they could now catch it on twitter, sometimes co-hosted with his adorable daughters.
Ms. Glenn's had her students writing corona diaries as a way to process the quarantine and COVID experience, and several students writings were first published  here on  Eye of the Bluebird but were then featured and republished with BCPS Exposure  and The Avenue News . Raven Brooks, one of seven Kenwood students' work published shares, "Having the opportunity to write for a bigger audience made me feel like I was being heard and for others to see how the pandemic was affecting the class of 2020. I felt like my class mattered and it also made me feel good about myself that my 3 a.m. writing assignment was published in a newspaper!"
Various teachers put together videos to post to social media to stay connected to the community. Ms. Villaran and Ms. Marshall put together a Miss You Movie with "we miss you" messages from staff to their students. Mr. Woodward visited campus throughout quarantine to not only check on the K.E.N. Club  nest of bluebirds but to video the babies and share them with all of us. Ms. James and Mr. Woodward organized a Thank You Video to our Kenwood community front line workers.
Teachers-  Ms. Komorowski, Ms. James, Ms. Franklin, Mr. Grubka, Ms. Strzegowski, Ms. Jones, and Ms. Funkhouser – collaborated and put together videos to recognize and celebrate our 2020 Seniors .  Mr. Lyon organized and put out the annual senior video. Ms. Cain took the lead on creating our annually hosted Kenwood Art Show and moved it online for all to view the art talent of our community. Ms. Pennington organized a Kenwood Virtual Talent Show  and Kenwood Choir Concert to share with the community.
The creative ways our amazing teachers and staff found to reach out and stay connected have made the switch to online learning such an easier transition. I personally want to say thank you to the Kenwood staff so much for waking up every single morning and putting your best foot forward to try to make this experience the best you could for your students, yourself, and your school as a whole.
If you missed these videos and photos these past three months be sure to check out our twitter as well as Mr. Powell's and SGA's   or look up the hashtags #kenwoodquarantined and #kenwoodstaysconnected on our Eye of the Bluebird facebook page. We may not have been in the building but your Kenwood staff was never far from reach these past three months.