Student Devices Provides New Learning Opportunities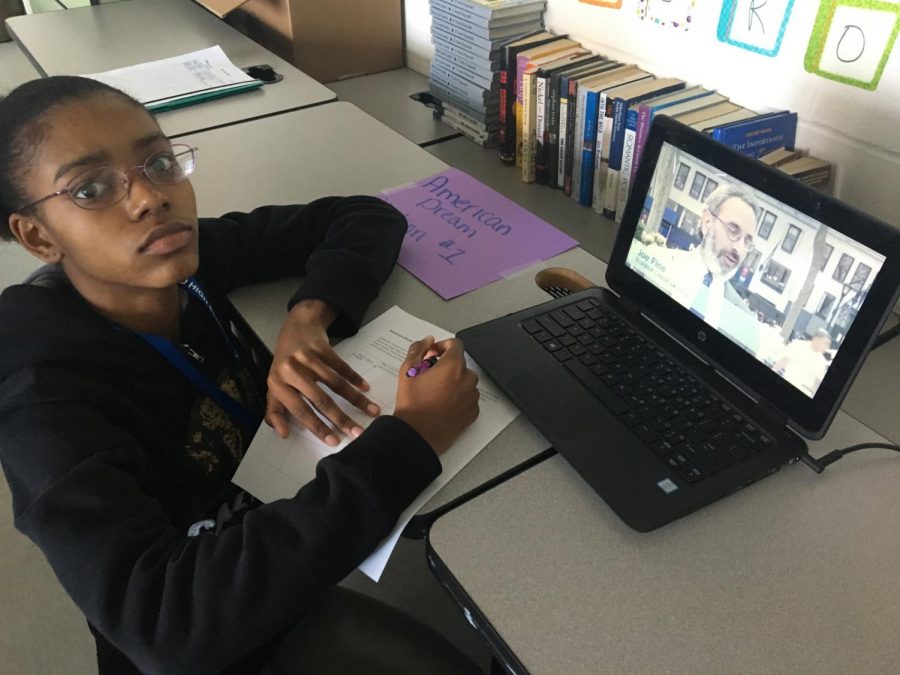 Abagail McKnight, Senior
December 3, 2018
This is the second year for Kenwood, along with many other BCPS schools, to go digital with devices in all student's hands, along with the new more interactive learning management system Schoology. Throughout September Kenwood provided each individual student with a laptop, along with a case and charger.
With students so plugged into technology these days you would think most students would be thrilled about this, but as English teacher Angela Glenn said, "I'm surprised when I give students options to use their devices or paper, how many still chose the paper route." A variety of students have been resistant to the digital upgrade.
Some students find themselves hung up on the difficulties and obligations that come with having the computers. Some worry about whether their device could be lost or stolen. Others find it a hassle to haul it around every day. "It's difficult to carry my laptop around because it weighs my book bag down," said junior Myasiah Bilola.
If a student's device is stolen or accidentally damaged, students are not responsible for the replacement cost because the school system has an insurance policy in place, according to Principal Brian Powell. If a student's device is stolen, it is important for the student to make a report to a school resource officer within 48 hours.
Other concerns include the relentless complaints about the internet connection from students and teachers. Teachers will be giving instructions on the laptops and students can start falling behind because their device won't operate properly or the internet speed is lagging.
"The biggest problem is the Internet can't handle all the devices at once because it's a double use of the search engine," said MaryEllen Sittner, Kenwood's STAT teacher. These tech issues can be difficult, especially when students aren't very tech-savvy and have to learn their way around the challenges that come with using a laptop.
Some students just don't feel adequately skilled on a computer.
"A struggle for students is not everyone knows how to type, but at the same time it's an important skill to have because most jobs have computers these days," added Sittner.
According to the US Bureau of Labor and Statistics, more than half of jobs in 2012 required some kind of technology skills, but by 2020 which is right around the corner they expect 77 percent of jobs to require technology skills. With this projected outcome it's necessary that today's students are taught this essential skill early in their lives while they're still in school. Though some students may be resistant to navigating learning on a device every day, as KHS students prepare to head to college and the work force, they must become familiar and comfortable with using them on a daily basis.
The new devices can also be beneficial for students who work at a slower pace or if they're absent one day, as they can complete most of the assignments online as well as submit it to the teacher online. Many teachers upload their assignments and PowerPoint presentations in Schoology for students to access any time. Without devices, students would have to make arrangements to get copies of missed assignments and PowerPoints and then follow up with turning in a paper assignment later, but now they can quickly connect with the teacher and the course materials online from anywhere. "It's a lot less papers for students and teachers to carry around. In Schoology, things can get graded quicker and students can access feedback immediately online," said Sittner.
Teachers are finding the devices an asset to their lesson planning and teaching. English Department Chair Megan Blackert said, "I think devices provide teachers with so many opportunities. Programs like VoiceThread  provide students with so many chances to show mastery of ELA lessons." English teacher  Glenn loves how students can read and interact with one another's writing with the discussion tool on Schoology.
Math Department Chair Holly Gorsuch also finds the pros outweighing the cons as "the devices give students more choices in how to demonstrate their mastery of various concepts."
Math teacher Irene McNulty find the devices to be a great test prep for her students.
"I also put a lot of PARCC questions on Schoology for exit tickets so the students get practice with testing online. In my honors class, we use Khan Academy to practice and take online quizzes for the SAT. It's helpful because it is self-paced and the students get immediate feedback," she said. She also loves using Desmos which has a "Guess Who" game where students can choose their favorite function and ask yes/no questions until they pick the correct answer.
While some may disagree on the pros and cons of the new technology in school this year, technology has been a part of members of our generation's lives since birth so we need to know how to do more with it than text messaging and Instagramming. These new devices and the teachers' use of them in the various ways in our classrooms are going to help prepare us to become the 21st century digital learner we're expected to be.
Source: "Computer Skills a Must in Today's Workforce". The Courier. Chicago's Courier Journal. 30 May 2017. Web. 3 December 2018.