Wednesday, November 8 Makenzie signed her National Letter of Intent to play NCAA lacrosse at Frostburg University where she will continue her studies in Exercise Science. Makenzie has been an exemplary student athlete here at Kenwood High. She is an A student in Kenwood's Sports Science Academy Program.
Throughout her time here at Kenwood Makenzie participated in three sports, lettering what will be for eleven seasons: soccer in the fall, managing wrestling in the winter, and lacrosse in the spring. She also played field hockey until high school.
As well as being a great lacrosse player, Kenzie is also a very talented soccer player and had to overcome some tough injuries during her four years here at Kenwood. In the winter she serves an instrumental role as wrestling team manager which is a huge time commitment with math organizational tasks as she assists Coach Richter.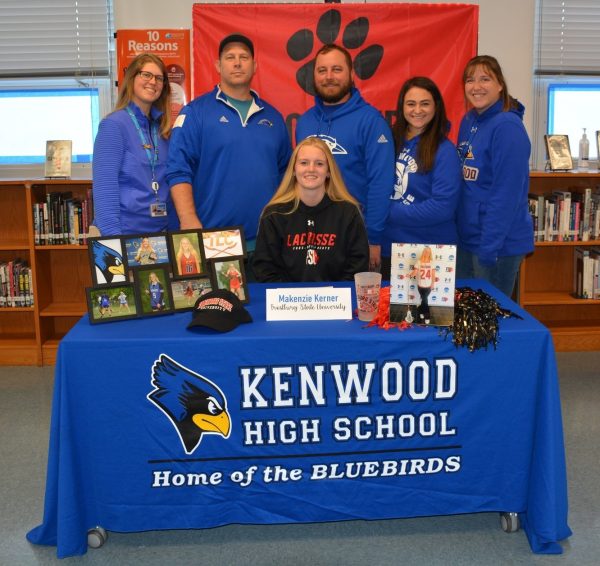 Her top sport is lacrosse and she's dominated here at Kenwood scoring 100 goals in 3 seasons!  She plays club lacrosse for the nationally ranked TLC A team (TLC Red) for the past six years but has been playing club lacrosse for nine years.
Throughout her time her time here at Kenwood, Makenzie has also been awarded the True Blue Award in the Spring 2021 for girls lacrosse, she was the MVP award winner in Spring 2023 for girls lacrosse, she has been recognized as a Minds in Motion award winner all seasons. Off of the athletic fields she has been an Honor Roll student all quarters of her high school career, a National Honor Society member, is in the Top 10% of her class, an SGA member, and was nominated to be Kenwood's representative for the Outstanding Young Women Leaders of BCPS.
Makenzie is looking forward to the opportunity to continue playing a sport she loves. She shares, "I get to do something I've worked hard at fourteen years. and excited for the opportunity to continue playing."
Kenwood Athletics looks forward to seeing all the great things Kenzie will accomplish on and off the lacrosse field in the next four years.