Baltimore County's Magnet Showcase and application deadline are quickly approaching. Incoming freshmen can learn more about school magnet programs at the Virtual Magnet Showcase on October 26 at 6pm and can even learn more at Shadow Day on November 2 in time to submit their applications by the deadline on November 3.
Kenwood High School offers two great magnet opportunities for incoming freshmen. Kenwood has the Sports Science Academy program (SSA) and the International Baccalaureate Program (IB).
Kenwood's Sports Science Academy helps prepare students who are interested in a career involving sports in the future. The SSA also holds several events relating to sports throughout each school year.
Students participate in thought-provoking class discussions, hold and participate in a variety of field trips throughout the year, complete service projects to get a head start on service-learning hours, and hear from important guest speakers to help influence a positive impact on the next few years.
Shaniece Jones, the SSA Coordinator, believes that the program is beneficial for students interested in athletic training, physical therapy, health education, etc. "During their time in the SSA, students take several classes that will build their knowledge and skill on sports-related content," Jones said. "These classes are offered at the collegiate level, but students will be able to experience them at the high school level." These classes include Paramedical Biology, Anatomy Physiology, Team Sports, Nutrition in Sports, etc.
The SSA students also participate in events such as the Holiday Adopt-A-Family, Hoops for Heart, SSA Basketball Holiday tournament, the FALS Playday, and several 5k races. Students also take a variety of field trips so they can see what a day would be like in certain careers. "Students had the opportunity to tour the hospital, participate in a medical simulation lab, receive Stop the Bleed certification and completion of the Minds of the Future program certification," shares Jones.
The SSA exposes students to careers in sports and allows them to build their knowledge and skill set while gaining some experience in sport careers in a variety of ways.
SSA graduate Aniya A. has found the experience valuable to her future career goals. "The SSA program has helped me prepare for the future because when we were in school, we took college trips to many schools and it helped guide me to the school I now want to attend. Also, the SSA program has supporting teachers to help you manage your time and work which us students need sometimes so I'm grateful for that!"
For any future BCPS middle schoolers looking to explore a career in sports medicine or science, Kenwood's SSA program is the program to pursue in high school.
Kenwood also offers the unique opportunity for students to earn an IB (International Baccalaureate). The IB diploma is a certificate given to students who complete a variety of exams and other components during their junior and senior years of high school.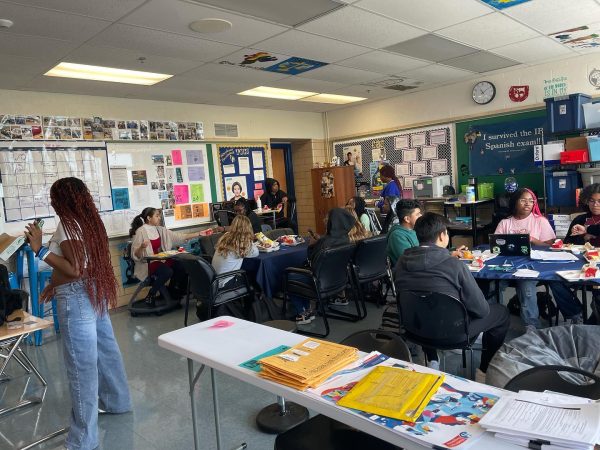 With an IB diploma students earn college credits while in high school. Students can earn up to thirty credits which means they would leave Kenwood,  starting college at the sophomore level! The IB Diploma helps students learn knowledge and skills for college and beyond. It helps students get into a good college for a better opportunity to earn degrees in the career they wish to pursue.
Students complete the courses and the exams through the two year internationally recognized college preparatory program with its internationally recognized curriculum, which is "the most rigorous college prep program in Baltimore County," according to BCPS Magnet office.
While these benefits are great the students have to earn them. Students must take IB classes. Students have to take and pass exams in six subjects. They also must complete a reflective portfolio that takes eighteen months. Lastly, a research paper of 4000 words is required. However, the hard work is well worth it.
2021 IB graduate Jesie Jumawid shares, "Kenwood's IB Program gave me multiple perspectives that showed me different ways of knowing things. I really liked how it made me more understanding–the most important principle in my opinion. Being a part of the IB program will make you a master of time management among all other skills! As a former IB student, I am not afraid to face my college classes because IB has prepared me for it (because my courses were college-level courses!). I met amazing people that I'm still in contact with today through the program, and I participated in activities that I thought I would never be a part of. The IB Programme is a worthwhile experience that will never be forgotten!"
As part of the IB Program students engage in community service as well. The CAS (creativity, activity, and service) project which is connected to earning the IB diploma "is a two-year process of reflection in the areas of creative activity and service. Students also have to complete one project during this two-year process similar to the MVP personal projects," shares Ms. Williams, the IB Coordinator.
With the high school magnet application deadline approaching soon, middle school students interested in learning more about the SSA or IB program should attend the Virtual Showcase and/or Shadow Day.