Spring Sports Conclude with Championships and Record Breaking Goals
The Kenwood 22-23 Athletic season has concluded with the ending of the Spring Sports season. It was another great season on the fields for our scholar athletes.
Kenwood lacrosse player, Makenzie Kerner, was one of the all star athletes that stood out this past season. She became the first girl lacrosse player here at Kenwood to score her 100th career goal with 52 of those coming this season. She was also named 1st Team All County for the season.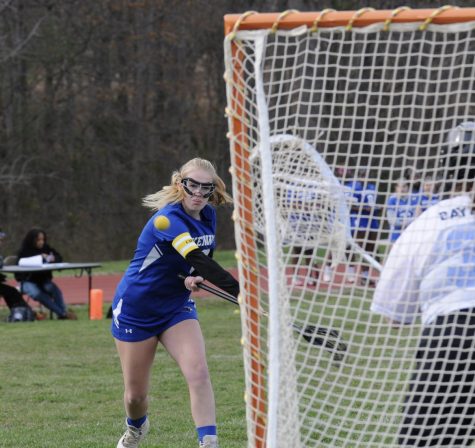 The girls lacrosse team ended up going 4-1 in division play with a 6-6 final record. Several other players were named to the All County teams:  Sophia Tonti was 1st Team All County, Trinity Bassinger, Olivia Wollschleger, Breanna Mabry and  Maryjane VanBlargen were all named 2nd Team All County. Sophomore Victoria Kerner ended up playing every single position on the field, including goalie for multiple games, and was the only player on the team with a stat in every category.
Kenwood's Allied Softball team had a fantastic Spring season with an East Division Championship. Their pitcher, senior Justin Feliciano led the team to a 5-0 start on the season!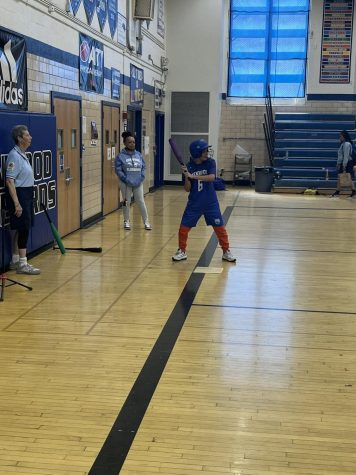 The Girls Softball team also had a strong season as they were the number 1 seed in their playoff bracket and finished the season 9-7. Cambre Ajello and Alyssa Cavalier stood out as team leaders on the field. Kamirah Moore was the MVP for this season for her overall dedication, passion, and leadership. Cambre Ajello led the team with the  highest batting average of a .528 and she won All County Second Team for Shortstop (SS). "We had a great season overall. Especially with a brand-new coaching staff and young girls. We made the best of what we had. We ended the season with only 10 girls on the roster. There had been games where we only had 9 girls and no substitutes. They worked extremely hard, and everyone improved," shares Coach White.
On the track, Senior Casey Walker walked away with a second place medal at the 3A State Championship in the high jump. "Casey cleared a height of 6'0″ to earn a very well-deserved medal against some tremendous competition. Casey has been an outstanding representative of our Kenwood outdoor track and field program for the past four years and our coaching staff couldn't be happier for him to end his high school athletic career on such a high note. It's been a true pleasure working with such a dedicated student-athlete," shared Coach Maki.
The Kenwood Boys Lacrosse won a few games including their senior night. The players that stood out this season were  Braden Jones as attack, Anthony Hughes at midfield, Kwaiveon Thompson at defense, and Khalime Truell in the goal.
Baseball's Shoaib Khan was asked to play in the baseball All-Star game between Baltimore County vs Baltimore City at Orioles Park at Camden Yards.
The Spring highlight for Kenwood's cheerleaders was being invited to host the State of the Schools event.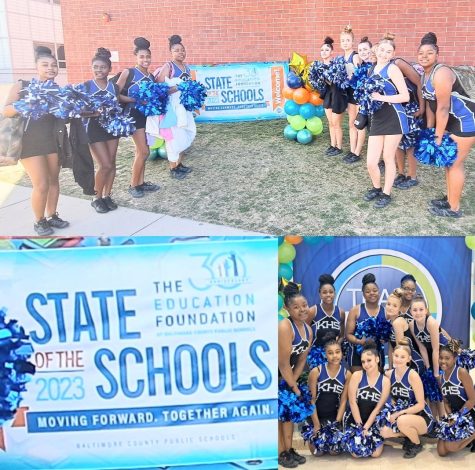 Numerous athletes were recognized at the end of the season banquet for the Super K Award which is receiving  8 or more varsity letters during the high school athletic career. Those athletes were Trevia Brown, Casey Walker, Kelly Bailey, and Chris Rittenhouse.
Several athletes were recognized at the Awards Banquet. Casey Walker was awarded the Derek Maki Leadership Award and Scholarship – This scholarship was established in honor of former Athletic Director Derek Maki in recognition of 13 years of exemplary service to the athletic program at Kenwood High School. Mr. Maki's selfless dedication to Kenwood Athletics has positively impacted the lives of thousands of student athletes over the years.
The Booster Club Male Athletic Award and Scholarship went to  Sam Salisu and the Booster Club Female Athletic Award and Scholarship went to  Haleigh Bullins. Kelly Bailey was named the Blanche Drennan Outstanding Male Athlete and Trevia Brown was named the Blanche Drennan Outstanding Female Athlete.
Chris Rittenhouse received the Neil Rivers Memorial Award and Scholarship which is  given in honor and memory of former Kenwood Student-Athlete Neil Rivers. Neil was a standout soccer player, wrestler, and baseball player in his athletic career at Kenwood. Neil lost his life in an act of senseless violence after his high school years at Kenwood. This award is given to a Senior Athlete who best exemplifies Neil's character traits of Integrity, Dedication, Strong Work Ethic and Commitment to his school and teams.
We have enjoyed watching and celebrating our athletes this past year. The 2023-2024 sports season begins on August 9 with Fall Sports tryouts.