BCPS Growing Their Own with Maryland's Teacher Academy

The Child Development Program as it's been known as in Maryland will came to an end in 2022 as the state of Maryland made changes to the program. The child development program only got students started on a certification for early childhood; whereas, the new program taking its place The Teacher Academy of Maryland (TAM)  prepares students for a path to become certified in K-12 education. 
Kenwood is one of a handful of BCPS schools to offer the Teacher Academy of Maryland program which is offered through the Office of Career and Technical Education.  The program begins a student's freshmen year. Participating students take four courses: "Teaching as a Profession", "Child and Adolescent Development" ,"Foundations of Curriculum and Instruction", and "Teacher Academy Internship." In the final course, students apply their knowledge in a classroom setting under the supervision of a mentor teacher. That classroom setting can now be in any grade K-12 so a student can experience the grade level they're interested in teaching someday.
BCPS supervisor of the school to career transition Ms. Alicia Fales adds, "TAM is part of the BCPS Grow Our Own initiative. One goal of the program is to support the school system in recruiting more teachers who represent the diversity of our students. Where better to recruit than from our current students?"
Not only through TAM can students get started on a career pathway to education but they can also become certified to leave high school as paraprofessionals to go right to work in BCPS schools or any schools. This school year is the first year students can take the ParaPro exam. "The ParaPro will certify graduates to work as paraprofessionals in BCPS,"  adds Fales.
Kenwood students of this year's Teacher Academy program went to Frederick Community College to take the ParaPro test on April 17.  The eight following students passed the exam to become certified paraprofessionals: Shyanne Bowman, Spirit Jones ,Moyosore Obimakinde ,Madoussou Diallo ,Deja Livingston ,Amaya Freeman, Jaida Gadson , and Okwuchi Nwabuez.
Okwuchi Nwabuez is also completing her intern this year at Stemmers Run Middle School in a sixth grade social studies class.  Kenwood's Ms. Fisher went to observe her teaching a lesson and adds, "She's doing an amazing job!"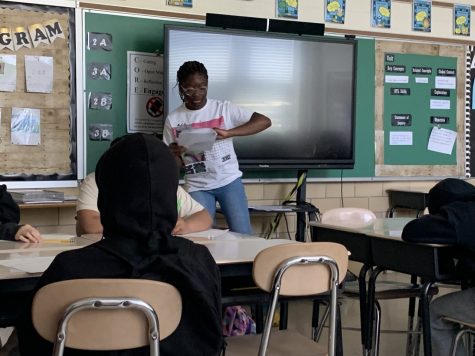 Even if a student decides not to pursue education after completing the TAM program, Kenwood teacher Ms. Reed shares, "Professions or any occupation that involves working with children like a speech pathology occupational therapy or school counselor can benefit from the path of joining the Maryland Teacher Academy."
As the Teacher Academy of Maryland continues to grow in Maryland, BCPS hopes to continue the progress of growing their own teachers straight out of their own classrooms.
Sources:
Spencer, Diana. "Growing Our Own Teachers." BCPS Exposure Blog. 6 September 2022. Web Accessed 18 April 2023.