Kenwood Recognizes Black History Month with Spirit Weeks, Contest Writing, and More…
February 1 is the start of Black History Month (BHM). BHM pays tribute to all Black people throughout American history, from the first slaves imported to the country from Africa in the early 17th century to African Americans today.
Carter G. Woodson, is recognized as the "father of Black history". He set out to designate a period to promote and inform people about Black history and its culture in 1926, and that is how BHM began.
Here at Kenwood High School there were several incentives to acknowledge and celebrate Black history month throughout February. With every morning announcement Principal Powell shared a fact regarding BHM, some teachers decorated their classrooms or surrounding hallways with BHM themed classwork or artwork. Kenwood's new Black Student Union sponsored a Black History spirit week  February 13th – February 17th. Spirit days include red, yellow, green cultural attire, Black Film Day, Decades Day, HBCU/ Black Excellence Day, and Black Out Day (wear all black every friday). A few students in their English classes participated in Black History Month writing contests.
Sophomore Zariah Smithwick was one of 20 finalists out of 200 writers selected to participate in Baltimore's WJZ Black History Oratory Competition.  Teachers Ms. Cooper and Ms. Tomasura were present with her family to hear her read her essay. Ms. Cooper who as a poet and speaker herself shares, " This was the most professional oratory event I've attended."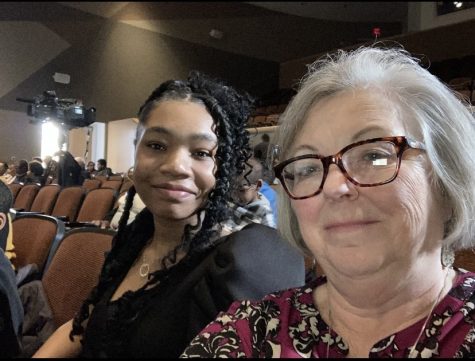 Several students in Ms. Glenn's classes submitted writing for BCPS's Black History Month contest. Writer Kai'Onna Jones who wrote a poem to submit shares, "It was nice to take a break from regular class writing assignments to write something that gave me so much pride."
The final winners for both BCPS's Black History Month contest and WJZ's Black History contest will be announced this weekend. Tune in to WJZ Saturday at 7pm for announcement of the winners.
Kenwood staff and students overall think BHM is important. Ms. Raven, a substitute teacher at Kenwood says, "Black History month is so important because all of the contributions of Black people deserve to be acknowledged and appreciated."
Students and staff have appreciated the effort to recognize the contributions of the black community to our history and present. Junior Kenwood Tyquan B adds, "I think the school is doing a good job with acknowledging BHM, especially with the morning announcements."
Black History Month is just one of the many ways we can celebrate the accomplishments and tribulations of African Americans throughout history.