Knowing CPR Gives Every Day People the Ability to Save Lives
CPR is something anyone can know to save someone's life. CPR  is also known as cardiopulmonary  resuscitation. It is a life saving technique that requires hard and fast compressions on the chest. 
The world was recently reminded of the importance of CPR when athletic trainers in Cincinnati responded promptly to provide life saving CPR  to  Damar Hamlin during an NFL game. Damar Hamlin suffered a heart attack when he was hit really hard during a football game against the Cincinnati  Bengals on January 2, 2023. The Hamlin situation was a prime example of timing when it comes to saving someone's life. 
The warning signs that someone is going into cardiac arrest and needs CPR is loss of consciousness, lack of pulse, no signs of breathing, racing heart rate or heart palpitations. Those are some of the major symptoms that someone is going into cardiac arrest (Mayo Clinic ). Prompt CPR can be the thing that saves someone's life and any one can be trained to provide CPR, not just medical personnel. 
Kenwood's Kai George and Emily Johnson who were both CPR trained in courses here at Kenwood have had to apply their CPR training in life saving situations. Last school year Kai's grandfather suffered a heart attack. "Kai was able to revive his grandfather with his quick actions and CPR," shared Principal Brian Powell in last year's BCPS Exposure story . Thanks to Kai 's  JROTC and  Sports Science Acadamy (Paramedical Biology) classes, and his quick thinking he saved a life and unknowingly became a hero. 
"Both Kai and Emily were in my SSA Paramedical Biology class during their freshmen year.  This class is a magnet class that all SSA students take.  I do teach CPR during this course.  I am incredibly proud of these two students," shares their teacher Ms. Smith. Emily was at work at Skateland when an 89 year old man at a birthday party fell and went into cardiac arrest.  Like Kai her training from her courses at Kenwood kicked in and she was able to provide CPR until the paramedics arrived. The man survived and recovered thanks to Emily's quick response.
Kenwood's school nurse, Mrs Myers adds, " Simply put, life threatening events happen in the community all the time  and there isn't always going to be a medical professional nearby. The average time for an ambulance to get to an emergency is  8-10 minutes. At this point, more than likely death or permanent brain damage has occurred to the person in need."  This is why it's so important to remember any of us can be CPR trained and any of us can be the difference between life and death for someone else. 
February is also Heart Health Month. According to Everyday Health, "Heart health awareness days and weeks in February is the awareness month for heart health in the United States, with one day-February 3- set aside as National Wear Red Day in an effort to raise awareness about how to keep a heart healthy." As we've seen with Damar Hamlin and sadly other stories in the news about young people suffering cardiac events, heart health awareness and how to help those during a cardiac event is something anyone of any age can know. 
Right here at Kenwood through our Sports Science Academy Paramedical Biology course and JROTC's CPR AED First Aid course  students have an opportunity to learn CPR and other life saving interventions.  "As part of our defined coursework within AFJROTC, we do the CPR AED First aid course and the full 40 hour national registry of EMT Emergency medical Responders (EMR) course.  We just finished the CPR AED First aid course in partnership with the carpenter classes," shares Senior Master Sergeant Stone.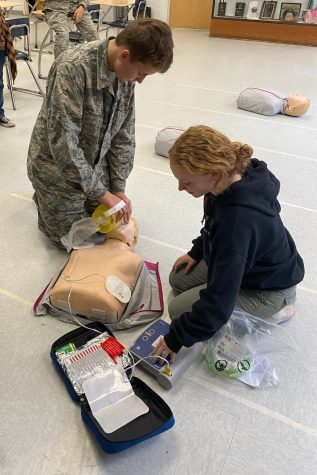 Kai and Emily are great reminders that any of us could have the tools to save a life. Students and staff are often interested in learning this life saving skill and hopefully one day it'll be a course offered to any and all students, not just those in particular programs, and offered regularly to school staff.  In the meantime check your local fire department, hospitals, and schools as they at times host CPR classes for the community.
Knowing CPR saves lives.