Get Started on Building a Career in the Trades with Kenwood's Carpentry Career Program
Kenwood's carpentry program is a program that's been a part of Kenwood for decades now. You can often find things around the school that were constructed by Kenwood's very own carpentry students.
Carpentry is making or repairing something within wood. It's using wood and shaping it into whatever it is you want. Carpenters build frameworks and structures by cutting and shaping wood and other construction material.
Carpenters are a benefit to us all because they help install wooden floors, build staircases, fix window frames, install shelving, and the list of things they can do is extensive. Carpentry is a great skill that is needed and benefits many people whether they plan to pursue a career in carpentry or not.
Kenwood's carpentry program is overseen and taught by Mr. Ace Sin. He finds the community support so helpful in providing an authentic program to Kenwood's students. "We have had so much support from people this year. Modu Tech has been a huge supporter this year, as well as Stanley/Black and Decker and Valspar Paints," Mr. Sin shared. Modu Tech made a very generous lumber donation to the Carpentry Careers program and invited everyone to tour their facility which included Stark Truss Baltimore. Students were able to tour the lumber yard and truss manufacturing facility to get a firsthand glimpse of how these businesses work and how they work with the field operations. Scott Stevens, the president of Modu Tech, also sits on the National Framers Council, who made another very generous donation to the program.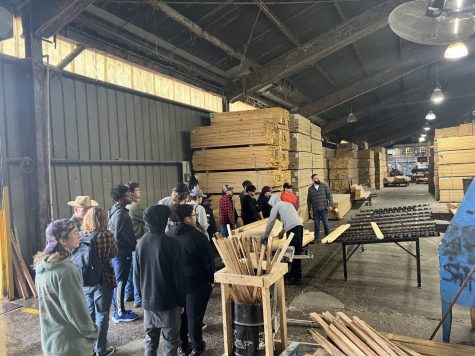 "Stanley/ Black & Decker has also been a huge supporter of our program by donating tools and attending our open house events," adds Mr. Sin. "They let us know about scholarships and other programs that help us grow young future-tradespeople. We are currently working on planning another field trip this year to their Towson facility."
Valspar Paint is a newer partner with Kenwood's carpentry program but has also jump head first into helping Kenwood students grow in the trade. "Larry Steele set up our fall Open House and brought a very generous paint donation to help with our structure build, with word that more materials are being gathered to help as well," adds Sin.
Mr. Sin has gone on to make new contacts that he looks forward to growing a partnership with, namely Anderson Windows, Fastenmaster, Versatex, and Simpson in hopes of providing future Kenwood carpentry students the best career prep program possible.
Kenwood along with Mr. Sin focuses on teaching the students real life construction skills to properly prepare students to enter the trade. The Carpentry program has been around for decades. Mr. Sin adds, "It has been around about 20 years to the best of my knowledge, but this is my third year here at Kenwood running it. I have well over 20 years experience in the field and bring that to every one of our lessons."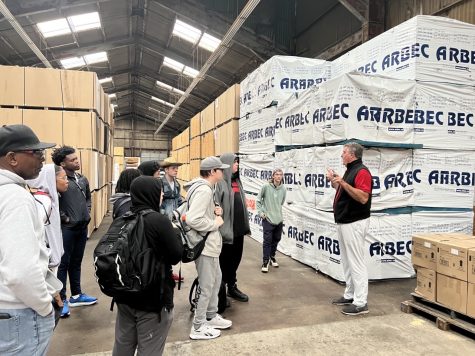 Kenwood's carpentry program has a great history of authentic building experiences for its students. The Kenwood Hollywood sign was built by the carpentry students, as well as the picnic benches out on the patio outside the cafeteria.
For this school year, Mr. Sin adds, "We built a car for the Grease school play, we will be building free libraries for honor society, and we have our regular five bathroom build that we complete each year." All are hands on authentic experiences for students.
Prior to the hands-on experience, students have to be prepared to take on those big projects. Student Daniel Duvall adds "Before we could do the projects, we had to go through lessons on safety and such."
Being a part of Kenwood's carpentry program can often lead to employment opportunities, not just after graduation but sometimes before. Mr. Sin adds, "We not only prepare students with skills and knowledge of the trade, but also employability skills. We also partner with local businesses to put them into jobs, whether they are just for the summer, for early release seniors, or after graduation."
Students enroll in the class for a variety of reasons. While some enroll because they're interested in pursuing a carpentry type career in their future, others like Andrick Mejia join because "I just like building stuff" which is always a helpful skill set for the future as who knows when they'll need to put those skills to work in their own homes someday.
As students grades 8-11 prepare to enroll in their courses for next school year whether students just enjoy working with their hands and building things or would like to possibly explore the career carpentry, it's a great program to explore your future. Carpentry Careers is currently a two-year completer program that focuses on preparing students for a career in the trade by teaching real life skills. Students going into 10th or 11th that are considering a future path that does not require college but want to make great money should consider looking into Kenwood's carpentry program. "Students that complete the program leave with their OSHA10 certification card, as well as NCCER Core and Carpentry 1 certification, as well as a great head start into a well-paying career and/or apprenticeship!" shares Sin.