Homecoming Week at KHS
Coming back into the first fully in-person school year with no masks or required social distancing guidelines, our school events have also returned. With that return includes the return of Kenwood's Homecoming traditions! The first Homecoming dance since 2019 is just around the corner, and with the theme being a Masquerade Ball, we can hope for some mysterious fun behind the masks.
As a senior, my peers and I haven't had the opportunity for a homecoming dance since our freshman year, and some like myself it'll be our first and only time going as our freshmen year we thought we'd have plenty of other opportunities.  I didn't get a chance to go freshman year, so being able to go this year is so fun to me, even though some seniors might think it's not as big as prom. But It will still be an opportunity to save those memories this last year of high school.
But the festivities for Homecoming aren't just the dance. The tradition of spirit week during Homecoming week continues with yesterday, Monday October 10 as Jersey Day where students and staff flooded the hallways in jerseys of their favorite sports team or athlete. Today, Tuesday is Pink Out Day in honor of Breast Cancer Awareness month.  Tomorrow, Wednesday is Wild West day, Thursday is 80s and 90s day, and lastly Friday is Kenwood Day so wear your Kenwood pride.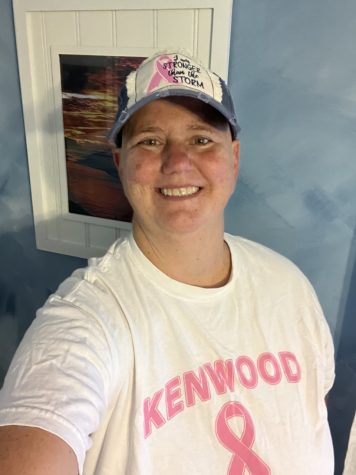 The Homecoming game kicks off with JV at 4:00 and varsity follows at 6:30. Our Bluebirds will face off against Overlea. The Homecoming tradition continues Saturday morning with our annual community parade that starts at 10am right here at Kenwood. The annual Powderpuff game on homecoming day, where there will be a female flag football game with a hilarious performance by the male cheer squad.  That will begin at 11:30 am. Homecoming will conclude with the dance at 7:00 and wraps up at 10:00.
We hope to see everyone in  the school spirit and excited  for Homecoming this year.