Spring Sports Come to a Close
Kenwood Spring sports wrapped up their first full season since the Spring of 2019 a few weeks ago. Players and coaches were happy to return to a full season on the fields.
Girls' senior lacrosse player, Shyan Chenoweth, was excited for the opportunity to make lasting memories with her friends. "I was looking forward to our season to make more memories with my friends and play along them one last time," she shared.
The season was an opportunity for new players to grow and older players to have one last time on the field before their high school careers ended. Sophomore lacrosse player, Makenzie Kerner adds, "For the team I'm looking forward to the team bonding. We have a very close group of girls, and we work very well together. This is one of the best group of girls I've played with during my high school experience." The girls lacrosse team ended their season with a record of 5-7 record and hosted a state playoff game, losing a close one to Aberdeen.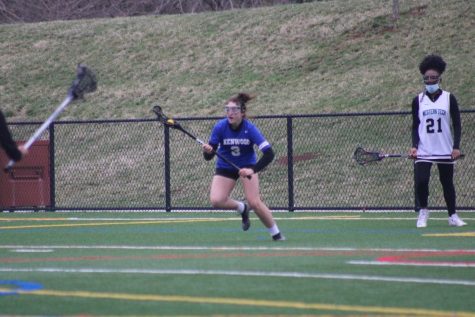 The boys lacrosse team was very young, but showed improvement throughout the season. They hope to take what they learned this year and go out next year, ready to compete.
Kenwood baseball team which won the 3A North Regional Championship  in last year's shortened season. They graduated a lot of seniors but still had another positive season despite a record of 5 wins and 10 losses they were very competitive with a very young team  The teams made it to the playoffs but were knocked out while playing against C Milton Wright. Their best game of the season was against their rivals Dundalk.  They have been battling with them for years and although Dundalk was a tough team, the Bluebirds were still able to come out on top with a win.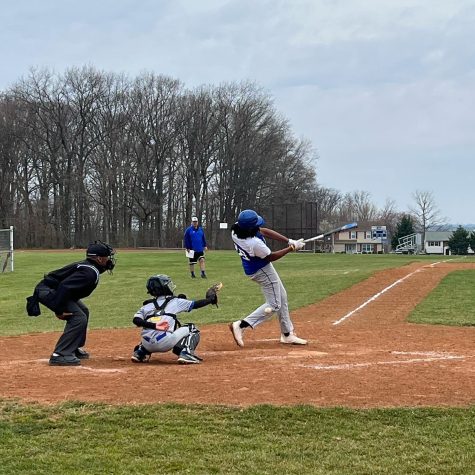 Kenwood's softball team ended with 5 wins and 7 losses. Several players were recognized for their outstanding play on the field. Tayler Collins, Cambre Ajello, and Bella Harris were voted to be on the All-Division team for 3rd base, catcher, and outfield respectively. Coach K went on to say, "This year's team was extremely hard working and showed immense growth throughout the season."
This past season our Kenwood Bluebirds track team made great strides. At the Baltimore County Championships at Woodlawn High School they competed against other athletes in the county. Brinae Chester, a JV runner, made a great individual stride by coming in 5th place in the 200m dash. Also Fred- Morgan Iheanacho a varsity player took 4th place in the 400m dash. He qualified for the state championships in both the 200 and 400 meters and broke the school record for the 400 meters which was set all the way back in 1966.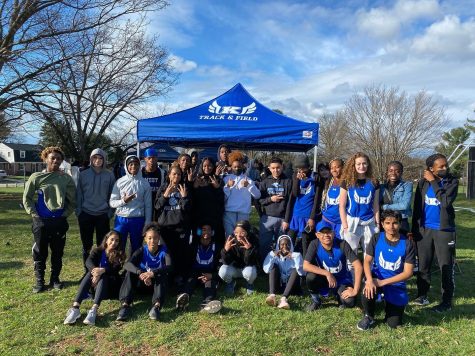 Cheerleading returned to the mats for games and competitions. Coach Richardson shared, "It was a tough year after returning from the pandemic, but our cheerleaders showed no fear! "KHS Varsity Cheer lead by six year Kenwood Cheer Coach Naomi Richardson, ended their year with Baltimore County Champion Runner-Up, Regional Finalist and State Finalist in the 3a/4a division. The KHS JV cheer team lead by first year coach Twyna ended their year with being TOP 5 in the county!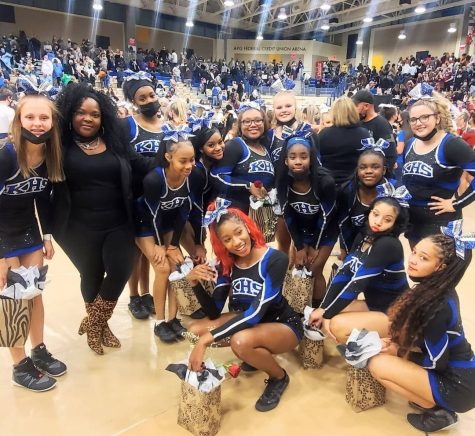 After time off from the pandemic Allied softball was able to return this season with two new coaches, Lauren Phillips and Sarah Arnold. They were able to play a great five games this season.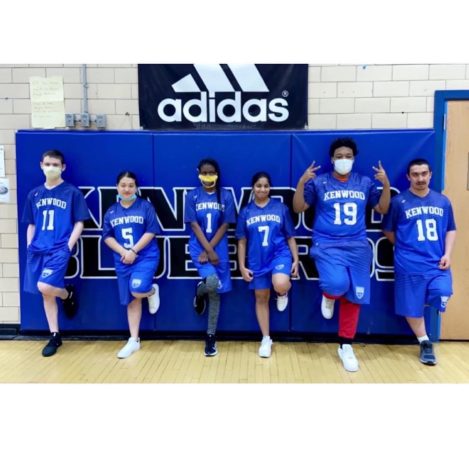 Kenwood's athletic director, Coach Ruocco, was happy to see his athletes back out on the playing fields for full seasons this past school year. He adds, "I'm proud of our program because what's important right now is not wins and losses but the kids having a positive experience with sports and enjoying being with their teammates and friends.  When teams win championships and lots of games it's just icing on the cake."
Kenwood athletics hosted their end of the season Sports Banquet on May 17. At the Awards ceremony there were 80 Minds in Motion athletes recognized for having a 3.25 GPA or higher. Twenty-seven student athletes were Tri Honor athletes, meaning they participated in three sports during the 2021-2022 school year. Six seniors-Trevor Campbell, Shyan Chenoweth, Ky'Marah Clark, Isabel Atkisson, Richard Reynolds, and Isabella Eckert- were recognized for the Super K Award which is 8 or more varsity letters during their high school athletic career. The Derek Maki Leadership Award and scholarship went to Denis Njoroge this year. The Boosters Club Outstanding Male athlete was Trevor Campbell and the Boosters Club Outstanding Female athlete was Ky'Marah Clark. The Blanche Drennan Outstanding Male Athlete award went to Devin Adams and the Blanche Drennan Outstanding Female Athlete award went to Isable Atkisson. The Neil Rivers Memorial Award and Scholarship went to Jacob Bouloubassis.
Kenwood sports will return for the Fall season on August 10!