Kenwood Cares Club Serves Their Community
Here at Kenwood High School students like giving back to the community and the Baltimore area. Students from Kenwood's after school club Kenwood Cares volunteered to go to Manna House homeless shelter to help feed the homeless back on March 22.
It was something they did before the pandemic and Kenwood Cares' advisor Ms. Fulcher was excited to give this group of Kenwood Cares students the opportunity to serve those in need in their community.
Students who participated in the event were able to give back to the homeless by passing out food for breakfast and then making toiletry bags for men and women. Student Mekhi Miller, a junior at KHS said, "It was a wonderful experience to be able to give back to the Baltimore community." These types of experiences allow students to help contribute to the community and grow in understanding experiences outside of their own typical experiences.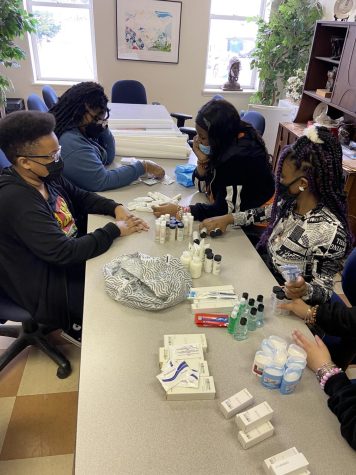 Ms. Fulcher, the advisor for Kenwood Cares organizes all of Kenwood Cares events. Kenwood Cares is a club where students can give back to the community and contribute to society. During the holiday season students donated gifts. Kenwood Cares is a club that every student should join as it teaches life lessons on how to contribute to your own community.
If students are interested in joining Kenwood Cares next year, see Ms. Fulcher in rm 137. New members are always welcomed and finding ways to serve our community is something we should all strive to do.