Kenwood High Students Featured in Art Exhibits around the Community
This upcoming spring student artwork is featured in several art show exhibits.
Four Kenwood students have been selected to have their artwork shown in the ASFLS Art Show: juniors Hailee Diehl and Aubrenesia Tomlinson and seniors Mason Snow and Ana White. The Azrael, Franz, Schwab, Lipowitz & Solter LLC Spring Art Show and Exhibition will be held in Towson. This art show is an opportunity to showcase work made by BCPS high school students, including artwork by students at Kenwood!
More Kenwood student artwork was showcased in the High School Juried Art Exhibition at Goucher College. Kenwood student artwork is also on exhibit at Baltimore County Public Library in Essex.  Kenwood Department chair Ms. Cain shares,  "Our artists are excited that the community will get to see their hard work!"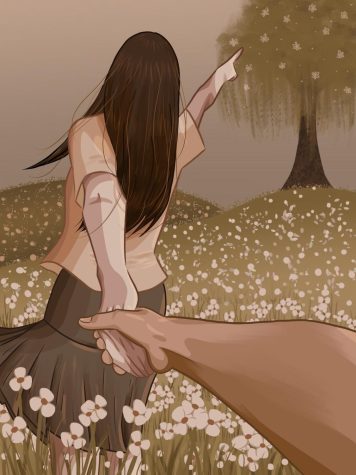 The point of an art show is to highlight the incredible artwork made by students. Submissions to the art show are selected by the arts teachers who are looking for the best artwork to represent our school. When looking for what to submit, Ms. Cain, Kenwood's photography teacher shares, "I look for students who have followed the rules of artful photography to create an eye-catching image. I also consider the consistency of their work quality and their contributions to being a good classroom citizen."
Giving students an opportunity to have their hard work be shown to lots of people who are interested in art can be really inspiring. Ms. Cain believes its important for students to be given this opportunity to shine. "Me and Mrs. Gavin both find it rewarding to share our art with the public. And when we are chosen to be in shows, even as adults, it encourages us to make more! Our whole department hopes that our art students feel the same way."
As for the students, they never know if their work is going to be submitted to an art show while they're creating it. As someone whose artwork is being submitted to the ASFLS art show, I was quite surprised to find out my work was selected, and other students agree. Junior Hailee Diehl shares, "I was ecstatic when I found out about being part of the art show."
As surprising as it is, this opportunity will inspire students to continue working hard on their artwork. Hailee wants to inspire others with her art, "This opportunity definitely motivates me and inspires me to make new art; hopefully it can inspire others as well."
Make sure to check out the artwork of Kenwood  in May at the various places they're on display and check out this Virtual art show !