New Year's Resolutions: A Tradition to Keep?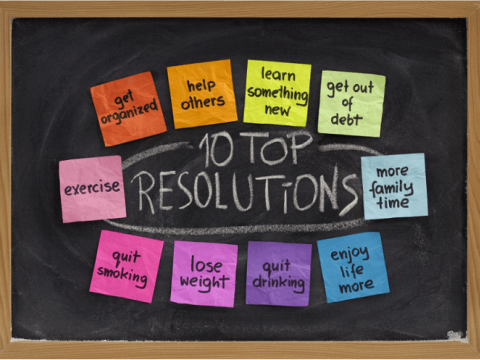 The start of the year is the time where many folks are feeling the most motivated. From Thanksgiving to New Year's, people are motivated to give thanks, to spend time with family, and to set new goals. The last holiday of the year, New Year's Eve, is one all about making new goals for the new year.
New Year's Eve is the day people celebrate the closing of the year with shiny silver and gold. The holiday has many traditions, from the 10-second countdown to the kiss at midnight, but either the favorite or least favorite tradition is New Year's Resolutions.
People use the closing year as a blueprint for what they'd like to achieve in the next year and use it as a fresh start to form better habits. More exercise, prioritizing mental health, and other goals are among the most common New Year's Resolutions. However, some people oppose resolutions because they have trouble managing them. So, should New Year's Resolutions remain a tradition?
Kenwood math teacher, Ms. Domsic doesn't do New Year's Resolutions anymore. "I have long given up on New Year's resolutions because I am not good at making achievable goals and putting a plan in place to achieve them. It just makes me feel disappointed when I don't meet those goals year after year."
New Year's Resolutions are a great way to hold yourself accountable through the coming years. They also help you keep track of changes you make to better yourself. Every year is a constant cycle of trial and error, and making resolutions help you track what works and what doesn't. Some resolutions keep our lives interesting. When life gets hectic and we lose track of the months, we can make resolutions that remind us to focus on our dreams and aspirations.
But what separates a New Year's resolution from a normal goal? Why wait until the end of the year to start bettering yourself or trying new things? This is the argument that many people bring up when they discuss New Year's Resolutions. There's no better time than now, even if you're hesitant to work towards a goal. It's very hard to keep up with resolutions after a full year of new experiences as 2021 was for many of us with all the changes with Covid. Holding ourselves accountable can become an issue too. People often put off important things for years and get stuck making the same resolution year after year, making them lose their meaning.
Kenwood math teacher Mr. Ashcraft found success with New Year's Resolutions with a goal he set back in 2013.  "For the 2013 new year I set a goal to lose weight for the whole year. I wanted to lose 106 lbs. So, every day for about five months I woke up and ran two miles and by the end of May I reached my goal weight. It was not pleasant and it was not the most fun to wake up each day and run two miles," he shares. A solid action plan of two miles a day got him to his actual goal to lose a certain amount of weight.
Whether or not you're for or against New Year's Resolutions, they remain a tradition for the beginning of every new year. Whatever your New Year's traditions may be, stick to them and celebrate what you accomplish in 2022. We're all in for something new. Happy New Year!