October Is Breast Cancer Awareness but Kenwood Teachers Part of Cancer Warrior Run to Fight All Cancers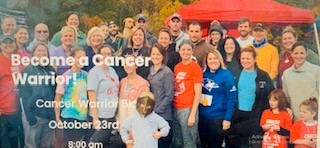 October has been recognized as Breast Cancer Awareness Month since 1985 as a way to encourage women to get yearly mammograms for early detection as the best fight against Breast Cancer.
It's become a month of pink everywhere as athletic teams from youth teams to professional team change their team colors to pink to raise awareness. It's also a month where walkers, runners, and volunteers come together to honor cancer survivors and raise money for cancer research in hopes of one day finding a cure.
Though October is initially recognized as the Breast Cancer month, and other months such as September are for Childhood Cancer, cancer awareness and funds to continue research on treating and curing cancer can and does happen all year.
According to the National Cancer Institute in 2020 it was estimated that, "1,806,590 new cases of cancer would be diagnosed while over 600,000 would die from the disease" in that year alone.For women, the National Cancer Institute also shares, "the three most common cancers are breast, lung, and colorectal, and they account for an estimated 50% of new cancer diagnoses for women."
Teachers often encourage their students to fight for the things they believe in and to think about what they can do to make difference in the things they're concerned with. Kenwood teachers Ms. James and Ms. McNulty set an example of taking action for the things you care about. Ms. Robin James and Ms. Irene McNulty, and a former teacher, Ms. Althea Page, are the members behind a nonprofit called Cancer Warriors to raise awareness and funds to fight all cancers. This will be the fourth year for the Cancer Warrior 5k Run. Founder Ms. James shares, "I refuse to sit by and watch my friends and family fight cancer without doing something. Cancer Warriors is my way of fighting back and lets us all see that we are not in this battle alone."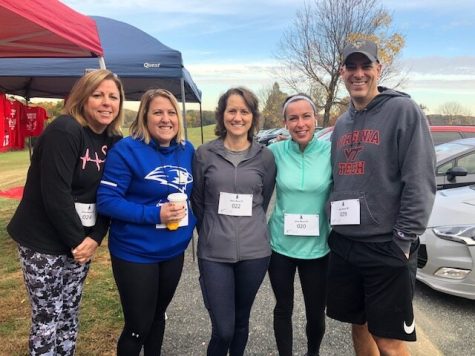 They host an annual Cancer Warrior 5K that will take place this Saturday, October 23 starting at 8am in Harford County at Annie's Playground. To get involved you can register to walk or run the Ma and Pa Trail with fellow Cancer Warriors in honor of someone who has fought cancer, sign up to be a ghost runner to join in spirit, donate money, or if a business sponsor the race.
Each year Ms. James, Ms. McNulty, and Ms. Page, along with several other Kenwood teachers show up to run a 5K in the early October morning to support those that have battled cancer. Ms. James adds, "Funds raised  go to V Foundation for Cancer Research which was started to honor Jim Valvano, a basketball coach of NC State who died of cancer.   One of the reason I started this was because my high school basketball coach died of cancer and he was a fan of Jimmy V."
If you're looking for something to do this Saturday morning, come cheer on your Kenwood teachers as they run for making change for cancer.
Source: "Cancer Statistics". National Cancer Institute. US Department of Health and Human Services. 25 September 2020. Web. Accessed 20 October 2021.