Bluebirds Stomp Hereford and Hosts Randallstown for Homecoming
On Thursday September 23, 2021 The Kenwood Bluebirds won a good defensive football game against Hereford, 26-14. It was a good win for the Bluebirds after a big blowout win at Woodlawn, 44-6. These were two big wins as they bounced back from a tough opening loss to the state champs, Linganore High.  Streaking together two straight wins improved them to 2-1 on the young season.
The Hereford ame was pretty uneventful heading into the second half. Not a single point was scored by either side but in the second half the Bluebirds offense exploded for 26 points and the defense held up, only allowing 14 points. It was a great performance as Hereford struggled to finish drives after getting solid yardage every drive. This is a defense that has some pretty good players and has forced a lot of turnovers early on this year.
Coach Krumholtz adds, "This team doesn't quit". He credits the defense for being able to match the energy and physicality of Hereford. "Hereford is and always has been a physically strong team. They want to pound the ball, grind out tough yards and control the clock and our defense did not allow them to do that." He also credits the O-Line for allowing Kenwood's offense to get going and for them to run rampant in the second half of the game. 
RB Troy Dukes ran for 150 yards while QB Khyree Myles added 52 yards on the ground, along with a touchdown (TD). Myles also threw for 94 yards ,including 2 TD's to WR Quantez Day-Barnes and WR Tyler Green. But despite the dominant performance Coach K hopes to see more in the future. "We have to cut out the penalties and mental errors." Several long runs including a TD run were nullified due to holding calls. 
Bluebird DT and OG  Nathan Kennedy agrees there's still room for improvement. "I think the team performed well; however, it was a slow start. I feel like I could have done better during the game and there is room to improve," shares  Kennedy after the win. Although he isn't satisfied with his performance, "I feel like I need to improve defensively, and the team needs to improve offensively and get started early."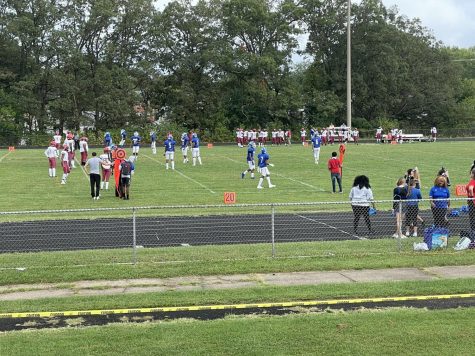 He plans to move on to he next game by watching film and just working hard at practice. Though they did  suffer a tough loss the following week against Owings Mills after a great  attempt at a comeback that ultimately came up short against Owings Mills, 28-24. However, as Kennedy says, "It feels great to get out and have the full season!"
Starting LB Jayden Glass is glad to have a full senior season after his shortened junior season.  Glass has a very good mentality and approach to every game. He is happy to get back out there on the field sharing, "It feels great to play again. I'm just glad to be out there, especially since this is my senior year. We're as resilient a team as anybody in the county so if we get hit in the mouth we bounce back instantly. I 've liked our grit I've seen so far, and  I think that's something we need to keep if we're looking to go far this year."
Coach K is happy to be back on the field with a normal playing season ahead for the team and feels like something special could be brewing this year as the Bluebirds hope to win their first state playoff game in school history. "That could changes this season," he says in regards to Kenwood never winning a state playoff game yet.
The Bluebirds will be on their home field this Friday, October 8,  for their Homecoming game as they host Randallstown, who Coach K says. "is always a challenge. Our guys will need to be focused and do their job on every play. If we can do that, it should be a great night." Come out and support your Bluebirds in their Homecoming match up against Randallstown at 6:30 pm this Friday. JV will kickoff before them at 4pm. Tickets must be purchased online at ticketspicket.com.