Baltimore County Students return for In Person Instruction After a Year of Virtual Instruction
If you time traveled back to 2019 and told a group of high school students that they would end up spending 17.5 months learning through a computer screen, with limited interaction with their peers and teachers, would they have believed you?
Probably not because who would have imagined that little two week extension to Spring Break in March 2020 would turn into a variety of experiences of learning through a computer screen that would last until late August 2021!
Finally, on August 30 still in the midst of the pandemic, Kenwood High School students reported back to school for in-person instruction. After schools across the country struggled with virtual learning instruction, the concluding evidence showed that in-person instruction was much more effective than virtual instruction.
In a span of a year and a half, teachers taught and students engaged in learning in five different ways. We last experienced our traditional classrooms in early March 2020. The rest of Spring 2020 consisted of sometimes optional and limited check ins for students and teachers on schoology as everyone adjusted to this new lifestyle of pandemic lockdown at home.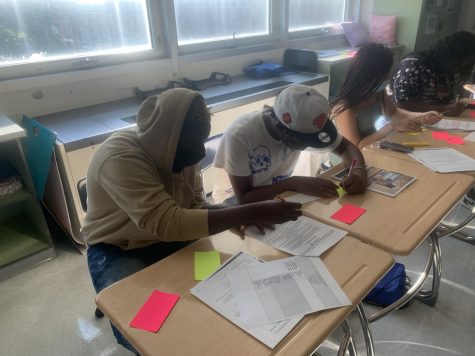 As school returned in the Fall of 2020, schools put out a virtual full day "bell" type schedule for students and teachers to follow from their homes with Wednesdays available for meetings and small group instructional help. By Spring, students could see their teachers in the classroom on a hybrid schedule of two days a week while their teachers still instructed virtually for the remaining students at home.
Finally, as we returned this Fall, we are so close to a normal return but staff and students must wear masks which make it really hard for them to clearly communicate with one another and large school gatherings are still restricted. These new norms at school reflect that we are all still being affected by the pandemic and the restrictions and policies that come with it whether we like them or not. As young teens entering into the final chapter of our childhood lives, the loss of some of these traditional high school experiences like dances and pep rallies still sting.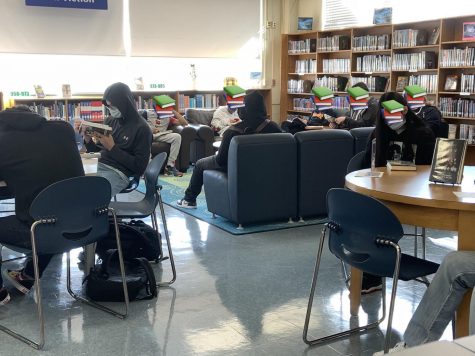 Though we're not quite back to life as before, many students are glad to be back in the nest at Kenwood High and hope to make the best of what we can get from our high school experience. Bree T appreciates being back in person, "In person learning is making students put in the effort to actually learn and participate with teachers in order to academically better themselves mentally and socially. Being in person allows us to be more motivated because we can in the mindset for school due to the environment."
There are a number of positives students have noted about being back in school.  Students can collaborate with their peers again and though many assignments aer still submitted through the computer, students aren't on the computer all day, everyday. Camryn H feels, "I think it's better for me. I feel more confident of my knowledge of the material I'm learning. I can come to my teachers physically when I have concerns. Mentally, it's just been easier to manage. I don't get stressed from looking at a computer for hours daily. My migraines have lessened."
Though some may felt a little unsure how to socially interact with their peers again, the opportunity to socially engage with peers and teachers again has been another huge positive to returning to in person instruction. Kenwood jurnio Tanaya B. adds, "I feel more confident working in a building and also with asking my teachers for help instead of waiting for an email back. "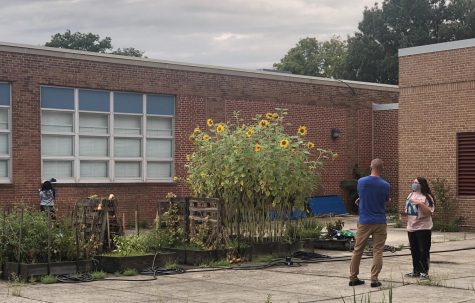 School has been an adjustment for all of us. Our days are longer now with adding getting to and from school and less breaks between classes to give our minds a chance to reset from one subject to the next. The pandemic is still present and according to recent science not going anywhere anytime soon. With masks it's harder to hear and understand each other and wearing mask for seven hours, five days a week is now the new norm that wasn't the case with virtual school.
When we were doing school virtually, it was easier to manage schoolwork and home because we could do our school work any time of the day around other responsibilities we had at home. We are back to the norm of school at school and home responsibilities at home. Kenwood senior, Ash O adds, "I feel relatively stressed and mentally tired from being back. It's a long day adding homework after seven hours of school and being able to pay attention in class and completing the work on time to then going home in the evening and having to take care of those responsibilities."
Tough we may not be getting the high school experience we all imagined as young kids, we must at least try our best to get through this hard time together. This year is about balancing safety with progress but with all of us working towards it together we can get through this third challenging year of learning through a pandemic.