Student Committments and Interests in Various Content Areas Recognized with Induction into Honor Societies
National Honor Societies are an opportunity for high school students to be recognized for the content areas in which they excel. On Tuesday, April 20, Kenwood High School students were inducted into our various honor societies. Due to the pandemic, like many things this year, the induction was held online through google meets.
In order to get an invitation for induction to the honor society students must have an overall GPA of 3.0 or higher and an  A/B average in the content area of the honor society they are joining.  Each Honor Society has additional requirements that relate to their content area. For instance,  the English Honor Society students need a teacher recommendation, and Spanish students are encouraged to take Spanish all four years.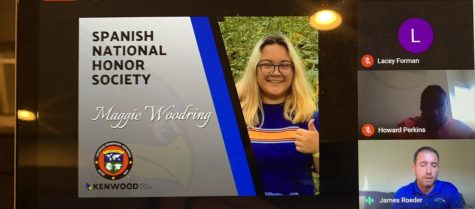 At Kenwood students can become a part of the National Honor Society advised by Ms. McNulty, The English Honor Society advised by Ms. Blackert, the Social Studies Honor Society advised by Ms. Littlejohn,  the Science Honor Society advised by Ms. Smith and Ms. Connelly, the Math Honor Society advised by Ms. Coleman, the French Honor Society advised by Ms. Komorowski, the Spanish Honor Society advised by Ms. Forman, the Technical Honor Society advised by Mr. Roeder,  the Thespians Honor Society advised by Ms. Taylor, the Tri-M Honor Society advised by Ms. Pennington, and the Art Honor Society advised by Ms. Cain.
Honor Society students will wear additional cords at their graduation to recognize their membership of a particular honor society. They are also eligible to apply for particular scholarships, opportunities to strengthen their skills in the honor society's content area, engage in college prep, and participate in student service learning projects.

All Kenwood Honor Societies accept new students of their sophomore or junior year every Spring. Being a part of an honor society is great for college resumes and demonstrates student commitment, achievements, and interests in particular areas.