The Senior Class of 2021 Celebrates the End of their School Journey in Person
For some, it may have seemed like this virtual school year dragged on forever, but for others like it is flew past. For Kenwood seniors now about to graduate, it can seem unbelievable that this time is finally here.
With the pandemic shutting down schools and events, they didn't know what to expect for the conclusion of their senior year. For months they wondered if they'd ever get to return in person, have senior night for their sport, experience the traditional of senior year activities, including prom and graduation.
This year's seniors missed their junior prom and watched the Class of 2020 miss their prom and traditional graduation. For the 2020 class, the Kenwood community did several things like the community parade and diploma pick up outside in their caps and gowns in front of a makeshift stage with Mr. Powell.  The Class of 2021 was holding out hope that they would get something to commemorate the end of the their public school journey.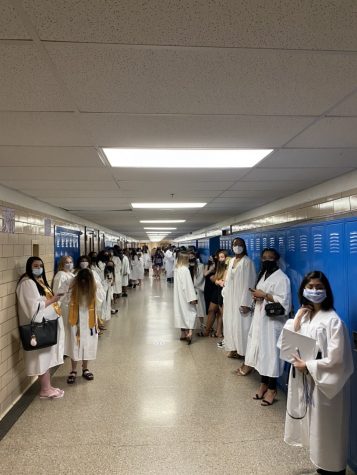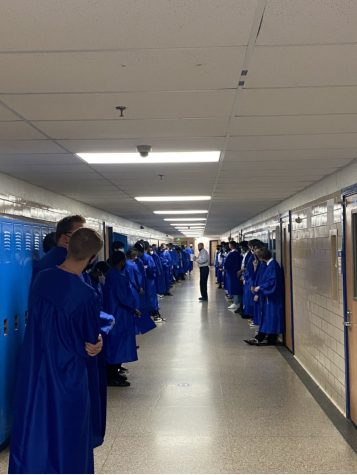 As students started returning to the building in March and sports resumed play, the seniors' hope grew. Seniors were able to participate in a shortened senior Fall sports season that ran from Feb 13 until April 16, and then a shortened Spring sports season that ran from April 17 until June 15. Seniors then had the option to return to school for two days a week for their last seven weeks of high school from April 6 until their last day on Friday, May 21.
This year's seniors unfortunately didn't get their senior prom. In place of their senior prom, Kenwood hosted a Spring Fling for them out in the student parking lot on Friday night May 21. Senior Laila Lucus and friends attended the senior fling. "It was like finally feeling free again and being able to be a kid once again," she shared.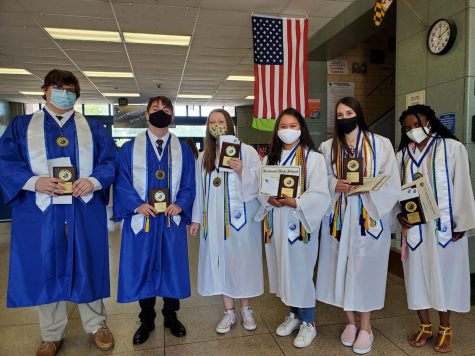 Kenwood senior, Isis Diaz, reflected on the loss of her senior prom. "Honestly, I understand to take precautions in order to keep everyone safe, and it isn't the school's fault; at the same time though, we seniors didn't have a chance to have prom last year and without it this year, it's still kind of sad since it's a tradition every kid gets in high school that we didn't get."
Kenwood's 2021 seniors will get a tradition graduation at Towson University. However, due to the ongoing pandemic, it will be split into two groups with half of the senior class graduating at 10 am on June 7 and the other half at 2:30pm. Senior Andrew Nadolny is looking forward to an in person graduation, "A virtual graduation would have been completely different. It will be great to walk up on the stage and get my diploma!" Students will participate in an in-person graduation rehearsal on Wed, May 26 before walking the stage on June 7.
Like any other usual senior year, the 2021 seniors were able to participate in an in-person Senior Scholarship and Farewell Assembly Wed May 19, as well as a senior signing day on May 5. The Class of 2021 has been awarded just 4.6 million dollars in scholarships, with the AVID scholarship total at 3.2 million dollars! The Class of 2021 received $40,000 in scholarships from local donors.
Several seniors received special recognitions such as the McCormick UnSung Hero nominee for male and female athlete which went to Domernick Hollis and Haley Kumza. The KHS Alumni gave five scholarships to Sofiat Soyemi, Alyssa Howell, Seth Adam Yu, Jazmyne Malone, and Ashby Gambrah. The KHS Class of 1966 gave one scholarship to Bryanna Haley.  Carmyn Santoro  won the Senatorial Scholarship. The Delegate Scholarship Winners were Haylee Hynton, Carmyn Santoro, and Mamadou Diallo. Daniel Szczepaniak  won the First Financial Scholarship. The Class of 2021 grads were accepted into 50+ different colleges and universities and received over 60 Academic Achievement, Magnet Program, and Special Recognition Awards.
The annual BCPS CTE ceremony was still held virtually on May 19. The following CTE students were recognized for their exemplary at Kenwood for their CTE area:
Nicholas Vergara – ATA
Olayemisi Harleston – Child Growth
Janine Lee – CCRD
Madison Keller – Graphics
DeAndre McKenzie – Computer Science
Brooke Hartman – JROTC
Devont'e Wilson – Plumbing
Even with the pandemic interfering with their final two years of high school, great opportunities still await the Class of 2021. "Advancing your education is always a great opportunity. The opportunities just look different. There are some positives that have come out of the pandemic. All colleges have been forced to recreate their programs for virtual platforms. This allows for a population of students typically shut out from certain universities to now access a greater variety of schools and courses," shares Kenwood College and Career Counselor, Ms. Franklin.
We wish our Class of 2021 students the best and can't wait to see what the future holds for them!