Yearbook: Telling the Story of School During a Pandemic
Something that would have seemed so strange to us back to when we were living "normal" has now become a new type of normal. School has operated for over a year now outside of the school building. For some courses that's been an easier transition than others.
Mrs. Barr's yearbook course is one that though the class itself might seem easy to operate online, the act of gathering pictures of actions in school when no one has been allowed in school has presented its own set of challenges.
Yearbook is a course taught by Ms. Barr in which students who are interested showing their creativity through art, particularly photography, and writing can be a part of the process of telling the story of a particular school year.
Though this school year definitely has a memorable story to tell, capturing that in images has not been the easiest task. Gathering material for the yearbook this school year was very hard, especially in the beginning. After schools closed on March 13, 2020 due to coronavirus students enter the 2020-2021 school year with only virtual classes and on a semesterized schedule. With the whole first semester online, students completed the whole course virtually, which ended on January 29 online.
This made it nearly impossible for our Kenwood yearbook class to gather pictures to tell the story of this unique school year. However, as it's been with many things this past school year, Mrs. Barr and the yearbook didn't lose hope and found new ways to track down pictures to tell the story of this school year.
"We have relied on students, staff, and families to send us photos. We also have looked for ways to tell stories that are not dependent on the school building so that the yearbook reflects students' school experiences even when we aren't in the building. Our yearbook stories this year will reflect students' experiences on what it means to be a teenager, live through COVID-19, or go to school online. These are all stories that are important and relevant even if students aren't physically in the building," shares Mrs. Barr.
This year's yearbooks won't be available this summer but Mrs. Barr and yearbook students did complete a 90 page book to reflect the stories of this past year. Barr states, "We know that students are still out there doing amazing, interesting things, so we've thought a lot about what those stories are and how to tell them with photos. We've had to do a lot of asking people for photos rather than taking photos ourselves."
Though it was uncertain at first, if and when, school would resume in the building on April 6th, all students that wished to return to the building for hybrid learning returned. This gave yearbook a chance for more material. Mrs. Barr adds, "Now that some students are back in school and sports are happening, that has given us more options."
Students always look forward to the yearbooks coming out each year. This year's will be one many look back at to remember this historical school year.
Yearbooks for this year are on sale until they run out! Buy yours here ! Yearbooks will be delivered during the summer this year rather than in the spring, which means the yearbook will be able to include graduation and other senior activities. Don't forget to thank Mrs. Barr and the yearbook staff for the finished production of the book in a challenging year.
About the Writer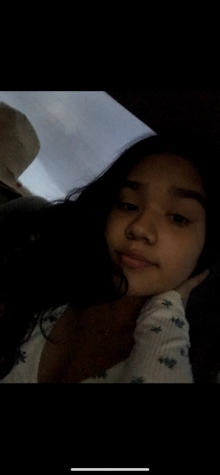 Jazmin Gonzalez,
Jazmin Gonzalez is currently a sophomore at Kenwood High School. While still debating on different career paths for her future she still looks forward...