Kenwood Sports Back in Action
After over a year of athletic fields and gyms sitting empty, students returned on Feb 13 with games beginning on March 12. The Fall Return to Play Sports Season is coming to a close this Friday April 16.
Kenwood athletic director Coach Ruocco shares, "I felt it was very productive and rewarding experience for all that were involved. A big, big debt of gratitude goes out to the Student-Athletes, Coaches, School Administration, Teacher Chaperones and Family Members in our community for their tremendous sacrifice and seriousness in which they took the Covid Protocols that were in place. This allowed us to have a safe season which is the most significant thing of all." Student athletes were definitely happy to get a little playing time back on their Kenwood turf.
Football
Though we're use to Friday Night Lights being a Fall thing, Kenwood football was excited to return to games under the lights. On March 12, Kenwood football defeated Cheseapeake High with a score of 38-0.
Even though we have a young team, they're a squad ready to rise up. Six underclassmen started on the varsity squad which is a rarity in football. Cameron Greaver and Tyler Green are only freshmen and they were joined by sophomores Dominic O'Hara, Dominic Davis, Khyree Myles, and Quantez Day-Barnes.
The rising quarterback is junior Jayden Glass. He had 135 rushing yards against the Bayhawks. Junior Davon Telp is also a young teammate for the Bluebirds. He played running back, line backer and half back.
Head football Coach Krumholtz shares, "The mini season was a great success for the football program. The coaches and players took the protocols very seriously and did everything that was asked of them, and because of this we were able to practice for 8 weeks without interruption and play 4 Varsity games and 1 JV game. I am so happy that our 4 seniors were able to play the game they love one more season before they leave us, and it was also a great way to begin preparing for the upcoming Fall 2021 season. We will have a brand-new schedule for Fall 2021, and it is a very tough one. The mini season helped tremendously in beginning to prepare for it. Kenwood has NEVER hosted a state playoff football game and has NEVER won a state playoff football game…I can't wait to see the stadium filled with fans again in the fall as we attempt to do both! "
In this Spring mini season the Bluebirds also defeated Western Tech 44-0! The Varsity Bluebirds completed their season with 2-2 record with winning two of their three games at their home stadium. The JV football team overcame the adversity of having 2 of their 3 scheduled opponents not being able to play and last week won their only game of the season over Milford Mill 22-6.
Boys Soccer
There a lot of emotions about the long awaited Fall sports season. Athletes were eager to start playing games and practicing with their teammates on a daily basis. This is a veteran team with nine seniors that are led by seniors Ryan Puller and Zach Deigert.
The Bluebird Boys soccer team started their season with a 6-0 win against Chesapeake High. Everyone was happy to start the season off with such a big victory. The following week, Kenwood faced Dundalk High at home, taking a 5-0 loss. They quickly rebounded though on their upcoming game with a 5-0 win days later against Western Tech.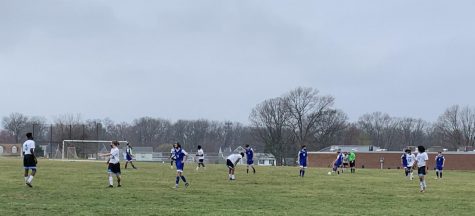 After Spring Break, the team got to work immediately, with an away game at Milford Mill. "I think we started off slow, but we then picked up the pace towards the end of the game," says Jacob Taylor. Kenwood ended the game against Milford with a late goal, winning 2-1. This took the team's record to 3-1.
Volleyball
Kenwood's volleyball team took a tough loss against the Dundalk Owls with the match set 3-2. Kenwood ended up losing in the 5th set 15-13. The Bluebirds played their hearts out and showed great sportsmanship. The girls on the team love the game and the made the most of this short season.
Kenwood seniors will miss their time on the Bluebird court. Senior Laila L shares, "I will miss my coaches. You will never get more coaches that believe in you like those at Kenwood!"
The team played a competitive schedule with their most recent win against Lansdowne High. The team has been led by senior Laila Lucus and sophomore Kayla MacLean-Jones.
Senior Kaylee York is graduating this year and added, " I will miss the bus rides. But also the conditioning! It may have been hard in the moment but it keeps you in shape! No coach will ever believe in you like coach Ronda and Coach Jones and Coach Kim! I love them!"
Girls Soccer
Kenwood High's 2021 girls' soccer season started extremely well, kicking off their first game with a 12-0 win against Chesapeake High. They then beat their rival, Dundalk High, by an outstanding 13-0.
The energy level was high and the girls were ready to have an undefeated season. But with games rescheduled for weather issues and people leaving the team for personal reasons, the girls' lost their positive energy and lost their third game of the season by 2-5. But that didn't stop them from making an exciting comeback by beating Lansdowne High 10-0!
According to Kenwood's girls' soccer coach Kelsey Franczkowski she shares, "I feel that this season was a great opportunity for the Kenwood Girls Soccer team to get out on the field and have fun. Us coaches were disappointed when we didn't get the chance to have a regular Fall season, so we were excited to have the chance to see our players and give them the opportunity to be active and play soccer. Obviously, this modified season has had some extra hurdles we had to overcome, such as wearing a mask while playing, staying 6ft apart during warm ups, no team huddles etc. With a total of nine freshmen coming out for the team, it shows our potential for the future of the team."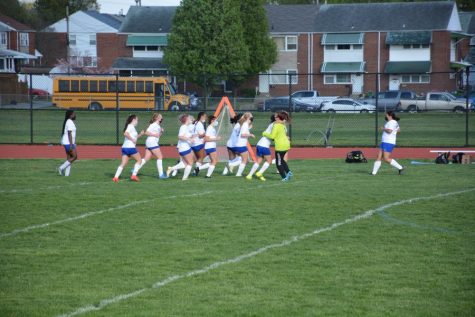 The girls' soccer team currently has a 3-1 record. This team of 17 players features 11 underclassmen and were led by Senior, Dannielle Lassahn, and a dynamic freshman player, Rachel Otuyelu. The team has scored a total of 35 goals so far this season while only allowing 5 goals against. "I am very proud of every player on the team and can't wait to see what they can accomplish in the Fall 2021 season," shares Coach Franczkowski.
The girls avenged their only of the season yesterday in their Pod Championship with a 2-1 double overtime win over previously undefeated Patapsco.
Golf & Cross Country
Our Golf team had two golf participants, Senior Jalen DeMauri and Sophomore Hailey Savini. Both are experienced players and were glad for the opportunity to work on getting better at a game that so many enjoy well past their high school days.
Our cross country team was led by Seniors LJ Chirombo and Sofiat Soyemi. They competed in the "Culminating" multi-team event this Thursday April 15 at Dundalk HS.
Cheerleading
Our fantastic cheer tradition (defending 20-21 bcps champs) continued with a full varsity team led by seniors Mia Richardson and Kaylee Roth. This team was the 20-21 BCPS defending champs. They competed in a virtual BCPS competition which features performances that will be videotaped and then judged and the girls were named the Pod 2 Baltimore County Champions.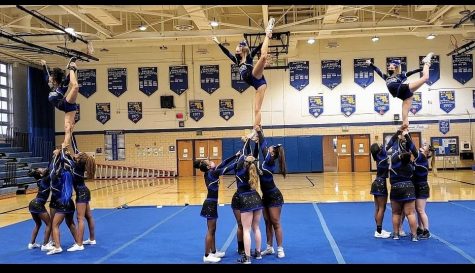 Many Fall teams wrap up their season tonight. Though it was a quick mini season, coaches and players are both grateful for the opportunity to compete in the games they love so much. The Spring sports season will begin tomorrow, April 17