Explore the Great Outdoors of Maryland this Spring
Spring has sprung around Maryland! With the pandemic still lingering around it's best to look for things to do this Spring outdoors so we rounded up a list of outdoor places to check out this Spring.
THE AVENUE at Whitemarsh
The Avenue is the perfect place for an outdoor meal whether it's from one of its many lunches or even packing your own picnic from home or local carryout. It has benches and sidewalk tables that are perfect for outdoor eating. While eating you can also look at all the AMAZING artwork, sculptures, and murals that surround the area. Not only can you bring your own food if you choose, but THE AVENUE has many different food places, differentiating from burgers and fries to sweet treats. Kobe Japanese Steakhouse and Cold Stone Creamery is highly recommended.
Exploring Deep Creek Lake
Whereas, THE AVENUE is practically next door, if you're looking for an outdoor excursions further away Deep Creek Lake out in western Maryland is a highly recommended area to check out. As Maryland's largest lake, it is one of the state's most famous fishing spots. It has a variety of different fish from smallmouth and largemouth bass to walleye, crappie, chain pickerel, and many more. Fishing isn't the only outdoor thing that Deep Creek has to offer though. There are so many things that you can do. There's also hiking, kayaking, mini golf, go karts etc. This doesn't have to be a one-day thing though. Deep Creek offers many rustic log cabin accommodations to make your outdoor excursion complete.
Campgrounds
A great way to escape and enjoy the great outdoors is always camping. Junior Haleigh R suggests that the best places to go camping in Maryland is Bayshore campgrounds. Bayshore campgrounds is on the scenic Chesapeake Bay. Another place to camp on the water would be Assateague Island where you can see the wild ponies and enjoy the Atlantic Ocean.
Baltimore's Inner Harbor
If you're looking for somewhere local to go to enjoy there's always Baltimore's Inner Harbor. Baltimore's Inner Harbor has so many attractions for all ages. Several options are indoors if and when you're ready for that. There's Port Discovery and the Maryland Science Center, a place where kids can have a fun and amazing time all while being educated. The National Aquarium is Baltimore's most visited attraction. The Aquarium has more than over 700 different species including sharks, dolphins, fish, monkeys, sea turtles, and more. The Inner Harbor also has the Harbor place and Gallery where you can eat and shop. To top it all off you can take a boat to cruise the Bay see the overview of how beautiful the Inner Harbor is.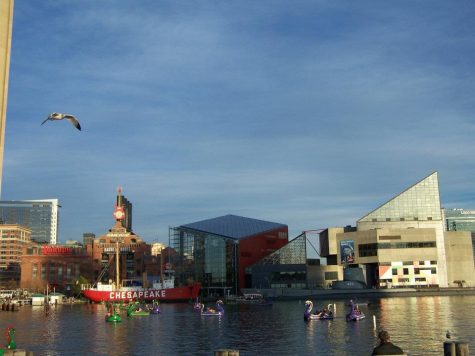 Don't Forget What you Can Do Right at Home
Even if you're not ready to venture out around people outdoors, there's always the option of a picnic whether it's at a local park or right in your own backyard. Picnics are always a fun way to get out of the house. Spring is the perfect season for picnics. Not too cold, not too hot, and usually a small breeze blowing. It's the perfect way to enjoy a meal out of the house.
Hiking is another perfect way to get out of the house without being around many people and it's great exercise too! There are many local trails around Loch Raven Reservoir and Gunpowder Falls State Park. Hiking is a fun way to get moving and get fresh air. The weather will be warmer and taking in all the beautiful views always boosts spirits.
What about starting your own garden right there at home? Spring provided the perfect weather for planting flowers and even vegetables and fruits. This is a great way to get out of the house, but without having to go anywhere but your own backyard. By growing your own vegetables or fruit, you won't have to even worry about leaving your house to go to the farmers' market and stores.
Though the pandemic is still lingering, with warmer weather here now, we can escape our houses to enjoy the great outdoors of Maryland. Let us know what you adventures you discover outdoors.