Teachers Spend a Year Balancing Their Own Kids while Teaching Virtually from Home
A year ago today on  March 13, 2020 students, teachers and staff were forced to quarantine which turned into a mandatory shut down for schools. However, what many thought was going just be two weeks at home soon turned into a few months and now a whole year of teaching virtually from home.
Some were okay with converting to virtual learning because of the rising cases of coronavirus, some found it difficult. "At first, I felt relieved. It was clear that something really dangerous was taking hold, and it was a relief to hunker down. However, it was difficult at first to switch over to online learning. Difficult because I had to establish new routines, find different ways to engage students, and hard to keep students present in the class," shared Dr. Lobo, a teacher here at Kenwood.
With the rising cases of Covid-19, schools were forced to go fully virtual in the fall of 2020. Though all school activities, homecoming, and sports were cancelled the expectations of what school would look like in the Fall verse Spring were different. Teachers would now participate in meetings every day with their students, as well as their usual planning and school meetings, just virtually rather than in person.
But just as they had to readjust how they were doing school, so did their own children that were at home with them. Teaching virtually presented its own set of challenges at times but balancing being a teacher and a parent was a whole other story.
Some students saw their teachers switching from teaching hat to parenting hat mid-sentence, lecturing their own kids to go into the other room or telling them to settle down during class time. Some found it a hilarious disaster at times to balance both students and their own kids.
Mrs. Brendlinger was in the middle of a meeting with a student's parents when her boys started to have a nerf war. "I was unmuted when I shouted at the boys to put the nerf guns down. And then I took a dart right to the forehead. With my camera on. Everyone including the parents in the meeting were crying laughing."
Mrs. Glenn says her own children became very familiar with her evil teacher eye. "It's the one where you stop your instruction and you stare at the kid interrupting your class- in the case of virtual learning it was always one of my two daughters- and you just keep staring until they realize you've quit talking and are waiting on them to be quiet."
Balancing home life with their own children while teaching simultaneously is a task teachers never imagined they'd be doing, yet here they are wrapping up a year of doing that very thing. Though it was an impossible balancing act at times teachers once again managed to make it work.
About the Writer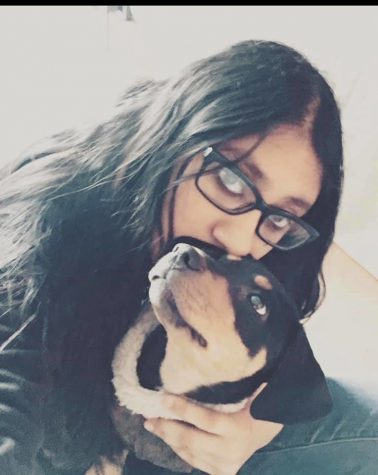 Priya Samaroo,
Priya is a senior at Kenwood High School and this is her second year writing for Eye of the Bluebird. She enjoys spending her time writing poems and fictional...