Students Weigh In on the First Full Semester of Virtual Learning
The first half of the 2020 -2021 school year in a virtual learning environment ended a few short weeks ago and though there's been much discussion between staff and parents about how online learning went what do the students who experienced it think? The students themselves seem to be the ones who have had the least to say.
All students have had time to navigate this new way of learning now. Some have found it hard to adapt to online learning. For some though it was an easy adjustment.
Kenwood junior and SGA member Isabel Attkisson finished the first half of the school year with straight As and an A in her courses with CCBC. Though she did well she still found the isolation of online school hard at times, "Not having social interaction was hard both for motivating me to complete work and for my mental health overall."
Challenges throughout the semester were thrown at students and teachers whether it was academics or not being able to interact with teachers and friends in person. It wasn't only the social aspect that some missed though.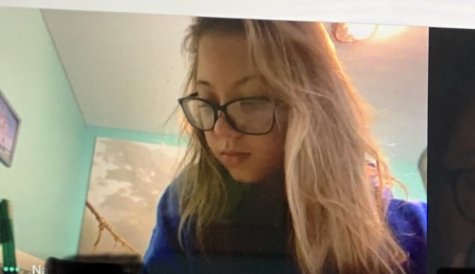 Online learning is new for most students and many struggled with the self-discipline that comes with being successful online. Many students struggled with waking up to learn in the comfort of their own home where they didn't even have to rush out the door. Some had jobs, and because of the pandemic jobs that were necessary to support their family, while others had to help supervise the learning of younger siblings or cousins.
Junior Blessing K explains that her biggest weakness with this new learning experience was staying up too late. "I'd wake up late and sleep through my classes," she shares. "I'm not used to this routine. I'm used to having to get up to go to school."
With younger siblings at home doing school too, many high school students found themselves not only managing their own schooling but babysitting and overseeing the education of their younger siblings or cousins. Kenwood sophomore Jazmin G had to help supervise her younger siblings schoolwork while focusing on her own. "They get distracted so easily and it's really hard to keep them on track while trying to focus on my own school work," she shares.
Junior Zakary N doesn't mind virtual school. "Personally, I like online school but I would like to go back to school. It's better online because I wake up a lot later than actual school and I can be at my house while I do my work. But I miss seeing my friends everyday and meeting my teachers." He's managed to keep up online but "I would rather be there with my teachers so I can get more in depth help and actually meet people in my classes without just sitting in a call where no one really works together unless they know each other." But even as much as he hasn't mind the change of pace with online learning, now almost a year in to it he can feel the toll it's taking. "It is kind of taking a toll on my mental and physical health. I don't like being in my room for hours a day and being able to see people just makes me happier."
Students felt the focus went from learning to just passing in this alternative environment of education. Staying motived to  focus was a challenge, as was meeting deadlines. Kenwood sophomore Daja L says she doesn't know if it's because of the way things were in the Spring or because it feels like you're in class alone but she's noticed, "Students treat online learning like it's optional sometimes."
With no school events to look forward to, sports postponed all of first semester, even things like graduation and prom a big question, students had a hard time finding motivation and being able to focus on a screen for long hours to keep up with lessons. Senior Priya S shares, "As a senior who already lost her junior prom I found myself at times wondering what was the point with the hope of a senior prom and graduation questionable for the future. It's hard to be motivated when I'm a senior and I had opportunities ripped away from me. I lost my junior prom, my last homecoming, and now potentially my last prom." She's not the only one that feels she lost meaningful moments of her high school experience.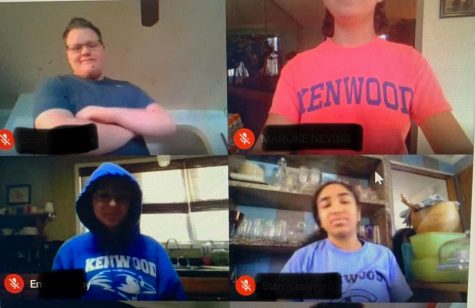 Even with the struggles of this new way of learning, one of the benefits that teachers and students both enjoy is there's no longer the problem of supposed "lost papers". With everything digital there's always a digital trail of completing and submitting assignments.
Many students also like the flexibility of online learning. It makes it easier to balance with jobs and responsibilities at home. But some took on more work to help their families out during the pandemic. Senior Priya S struggled with which to dedicate her time to. "I struggled to balance work and school work. I was asking myself do I work or focus on school?"
One of the other things students have liked as a result of the change is how all of their teachers organize their materials in a similar format through the BCPS Schoology platform. Sophomore Haleigh R shares, "Because everything is organized the same in all my classes it helps me find things and I don't have trouble getting my work completed." With students balancing many things with jobs and younger siblings in this pandemic school world, many found the recorded classes some teachers share after class helpful too. Priya S adds, "If I missed a day I could always find the work no matter the class."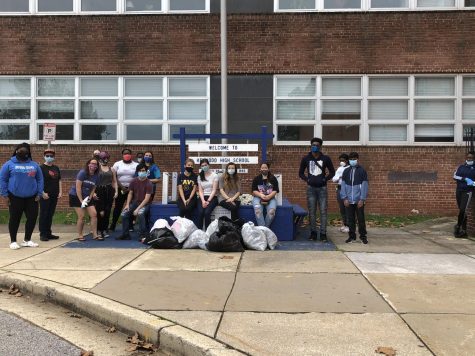 Though there is talk of having some time in the school buildings in late third quarter and throughout fourth quarter, much of students' education will still be received online for the rest of this school year. The biggest struggle seems to be how to stay motivated and self disciplined in this kind of environment.
For some it worked and some it didn't.
Many wonder how much of this experience is going to become the new normal for education? While there were things that make it harder and not ideal, there were other things that were nice about this that should stay when education moves forward into whatever education will look like post pandemic.