Kenwood Starts New Dance Program
Kenwood High School has many influencing programs and clubs that allow students to express themselves. One that really shows passion, hard work, and integrity is the KHS Dance Program led by Ms. Amy Ferrigno who pulls it all together. The program begin this year.
"The idea around the dance program was a collaborative effort. I had experience working as an administrator in a previous building and we began a dance program there. I had some ongoing discussions with our BCPS Dance office about beginning a program. Our dance team that began last year had a tremendous amount of interest and success, so I began to think about how we could continue that momentum. Both of our primary feeder middle schools in Stemmers Run Middle and Middle River Middle have dance programs that recently began. Due to this and the growing interest from students, we wanted to work to provide this great opportunity for our students! Ms. Ferrigno is an outstanding dance educator with a tremendous of experience both in the school setting, but also in the community and professionally. I am ecstatic to have her leading the program and providing opportunities for our students!" shared Kenwood Principal Mr. Powell.
Her own history with dance is what led her to bringing the "dance floor" to Kenwood. She says, "I've been a high school dance teacher for 18 years. What encouraged me is that a dance teacher increases independence for people who don't want to go to school but they like to dance." This brings out a passion and purpose for many students who love to dance and motivates them more in attending school.
Not only do the students love to dance, but Ms. Ferrigno also has a passion for dance. "I was a dancer. I was in an after school dance program, practiced for two hours a day and danced in a studio." The relationship between Ms. Ferrigno and her dancers go hand in hand due to sharing the same love or interest for dance.
Ms. Ferrigno's has a grand vision for the dance program at KHS. Ms. Ferrigno shares, "I would like to make it to be a full-time dance program split into six sections and eventually having a company…maybe even a competition team." This goal will ultimately have to be reached by students passion to help build the program and the support of the school to escalate the dance team to the big stage.
Furthermore, what makes the dance program so unique are the creative dance routines created by Ms. Ferrigno. "I usually come up with routines myself…although we do have a lesson on student choreography where the students get to make up their own dance routine." Adding on, she says, "The dancers present to people and that is what builds our confidence."
What the dance program brings to the table is exciting and versatile. Something Ms. Ferrigno wants others looking from the outside to know is "We do all different styles of dance; hip hop, tap dance, jazz, etc. You will have an opportunity to see all genres of dance." This creates more diversity in the dance world and for any level of dancer to learn and improve their future dancing career or overall performance.
About the Writer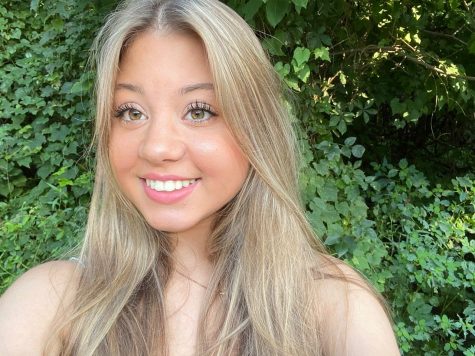 Natalia Obrebski,
Natalia Obrebski, a junior at Kenwood High School, writes as a hobby of her own. Natalia plays lacrosse for Kenwood and attends all honors classes. Natalia...