The Isolation of the Pandemic And How It's Impacting STUDENTS MENTAL HEALTh
Due to the recent events of COVID-19 students and teachers have had to stay home to teach and learn. But many are left wondering how is this affecting students' mental health?
The current schooling situation is taking its toll on student motivation. Both Kenwood junior L. Vergara and sophomore A. Tomlinson both made similar comments about finding it hard to get up in the morning due to this current schooling situation where it's just logging onto a black screen and limited interaction with their peers. Vergara shared it makes him feel, "Depressed, just more depressed. I really hate it."
Sophomore Y. Rodriquez Cabeza has found the isolation of the pandemic so lonely. "I am really lonely. I like being surrounded by people and talking to them.  In my house I am just bored all day with nothing to do." While some students have started to venture out of their homes to return to sports and seeing friends, others have been isolated for almost seven months now. "I haven't seen a friend since the last day of school on March 13," shared sophomore who chose to stay anonymous. "I have little motivation knowing I can just log off anytime and really no one will know I'm not even there."
Sophomore B. Thomas has found being home impacts her anxiety too, "It's been weird mentally. I'm used to being able to talk to people and physically see them. Being on the computer so long starts to mess with your mind because you want to see people in person, not on a screen," she shares. Many students would much prefer to be in school. Kenwood sophomore K. Bailey said, "I definitely prefer being at school as it's easier to learn when you're at school. First of all the teacher can personally help you and you don't have to deal with WIFI messing up your entire lesson."
While Bailey feels this way not all students agree. Sophomore C Garcia-Jacinto finds the learning at home better for his mental health. "I actually feel more relaxed because I don't have to talk in person with many people. I hate class presentations because they make me feel nervous. I feel like everyone's watching me when I'm walking down the hallway even though people may not even notice me at all," he shares.
Students aren't the only ones concerned about the mental health impact of the isolation that's occurred with the COVID pandemic. Kenwood English 10 & English 10 GT/Pre-IB teacher Ms. Single stated, "This is such a strong change from what we knew as normal for pretty much our entire lives so none of us really understand how to deal with the stress of something like this. It's hard enough as an adult right now. In the spring I was depressed.   I have coping skills and previous experience with what to do to better my mental health so I can't imagine how it is for my students who don't have those coping skills." The mental health toll of the pandemic isn't just impacting students but teachers as well.
Joshua M. Grubka, M. Ed. AVID, FALS, IB, SSA Counselor, and School Counseling Department Chair at Kenwood High School shared "I think it's affected students differently based on what students have around them at home in terms of their surroundings and access to resources. It really depends on certain variables like how many people are in the house, can they go outside, do they have access to stress relievers, whether it's athletics, or working out, or some sort of entertainment. There's really no variable that leads to one thing causing the stress, besides the fact that we are all under stress, so it varies depending on the student and what resources they have. If students have resources, typically they're not that stressed, but if students don't have resources then they're going to be stressed during this time."
He hopes students remember that they can always come to the counselors and staff at any time if needed and that everyone misses the students. In the meantime during these difficult times, there are several things students can do to stay in good mental health. He shares, "Staying active intellectually and physically, typically can help. It's tough if you're stuck in a home, what can you do to stay active? But staying active is definitely something that students can do within their control with what's available to them in terms of space. Other things that can be helpful would be reading for pleasure, engaging in different types of family activities. I know amongst my peers and teacher friends they've been getting outdoors and just kind of breathing in the fresh air whether it's at a park, a nature trail, and many have found this has been helpful."
Mr. Grubka said that it is different for each student, which couldn't be truer. This current schooling situation is affecting everyone differently, but for those who are having a difficult time, reach out to the staff or the places Mr. Grubka provided below. It's always good to ask for help and advice and remember we're all in this together.
If you need to reach out to someone:
United Way: 211, Crisis text line: Text the word "HOME" to 741741 for free 24 hour support, Maryland Suicide and Crisis Hotline: 1.800.422.0009, Baltimore County DSS: 410.887.TIME, Baltimore County Crisis Response: 410.931.2214, The Trevor Project: 1.866.488.7386 or text START to 678678, and the Maryland Food Bank: 410.737.8282.
About the Writer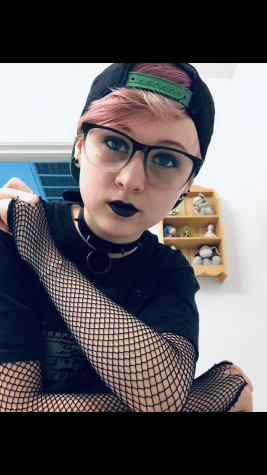 Emily Overby,
Emily Overby a junior and a first year staff reporter with Eye of the Bluebird. She is also a part of  Drama, SGA, and NHS. She hopes to one day  be...