Shopping Goes Online with the Pandemic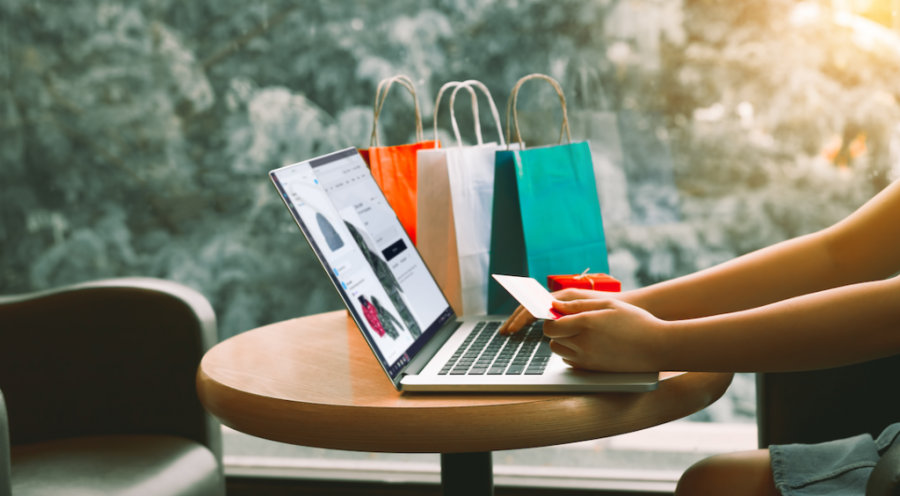 Desiree Jones, Junior
April 29, 2020
Due to COVID-19, there has been many mass closings. First Maryland closed all public schools down on March 16, then non-essential businesses were made to the close, and a stay at home order was put out back in March and as April comes to a close still hasn't officially been lifted. As the Corona virus spread globally and stores shutdown the online world boomed with virtually everything from work, to socializing, to even things like weekly shopping moving online.
According to Business Insider , "Online supermarket visits were up 162% in March 2020 versus March 2019 and up 146% from February 2020 to March 2020" as more and more people in quarantine switch to shopping for their groceries online rather than risk visiting the stores. Other non-essential shopping businesses such as Forever21, Hollister, and etc. were forced to close their doors, but for these businesses to still make their money in some way they've moved to promoting sales online. To encourage consumers to support these businesses they've been offering discounted sales and free shipping. Check your inbox for the sales and discount coupons retailers are sending out to entice shoppers to still shop their stores (Thomas).
Many may see now as a good opportunity to catch good deals, or some could think of it as a manipulative way to convince people they need material things in a time where maybe other things are more important. Whereas online sales are up for grocery stores, unfortunately, the same can't be reported for retail stores as "The uncertainty surrounding the coronavirus has prompted many to tighten their wallets. Spending has rapidly shifted to staple items such as groceries and household cleaning supplies, away from apparel and accessories. Some shoppers are likely also pulling back because they are concerned about keeping a steady paycheck," reports CNBC.
However, it isn't just clothing sites offering deals and sales during the Coronavirus Quarantine but check out Amazon Music/TV, HULU, Netflix, and even gyms for different kinds of sales as everyone is trying to figure out how to connect with the consumer locked down in their home.  Also, restaurants and fast food places (even though essential), are at times offering free delivery and/or reduced pricing on their menus. Businesses- essential and non essential-are all just trying their best to keep their money flow afloat. Though these are tough times for all, any support given to businesses in times like now can help them towards financially surviving the economic hardship of the coronavirus shutdown.
If this would have happened just a decade or two ago, think about how SO many things wouldn't have been able to continue due to the lack of current technology. The online world is offering us a way to keep going and to still support one another and the businesses that provide income to so many.
The Eye of the Bluebird would like to help promote local small businesses during this time. Please feel free to email us your information on what you have to offer and how consumers can reach you for an upcoming feature on businesses that our readers can support during this time. Email [email protected] and Business Advertisement in the subject line.
Sources:
Thomas, Lauren. "Retailers are dangling deals online amid coronavirus, but shoppers may not show up". CNBC Health Returns. NBC Universal. 23 March 2020. Web. Accessed 28 April 2020.
Hanbury, Mary. "The coronavirus pandemic is pushing more people online and will forever change how Americans shop for groceries, experts say". Business Insider. Insider Inc. 12 April 2020. Web. Accessed 28 April 2020.