Kenwood Weighs in on Online Learning: Yay or Nay?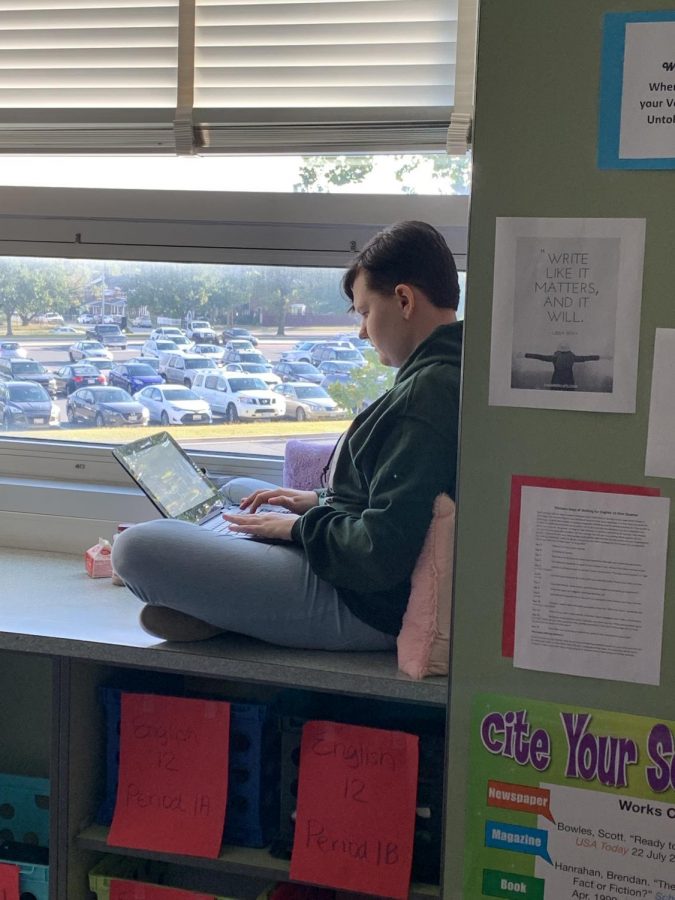 Last week State Superintendent Dr. Karen Salmon extended school closings and remote learning to May 15 so this week students and staff headed into week 3 of Baltimore County Public Schools "Continuity of Learning" plan. Fortunately, for Kenwood and other BCPS high schools students and staff have been working with Schoology the past two years and that familiarity with this blended learning program has made for a smoother transition for them.  This is also the second year that all high school students have their own BCPS issued device. As both students and staff are adjusting to this new way of learning completely from home and online, both are finding pros and cons to this new educational pathway. Some are ready to return to the traditional way of learning; others wonder if we can incorporate this type of online learning more in the future.
Teachers and students have had to get creative in their approach to online learning. Kenwood French teacher, IB Teacher, and World Language Department Chair Aimee Bogrand in her Theory of Knowledge course in the IB Diploma Program explores the question "How do you know what you know?"  Students just started the course second semester, so they were really in the first couple months of what will be a year-long course.  They were in a unit about the Arts, and Bogrand assigned them an exploration project where she set out of "artifacts" and they needed to find out about the artist, the intended audience, the message, as well as define art in their words and analyze whether the given artifact is in fact "art" by their definition.
During their first Google Meet as they were checking in and since they are a class full of juniors, they were talking about getting their prom dresses and how amazing they looked and how they wanted to wear them but sadly wouldn't get to now that prom was cancelled.  Since they were going to do some of the presentations in the next class, Bogrand told them they could wear their dresses.  Junior Ahjae Smith was interested and asked if she could do the presentation using her dress as the artifact while wearing her dress, and Bogrand said absolutely.  So, after two other presentations, Ahjae went live with her presentation, wearing a beautiful prom dress and a beautiful necklace.  "We were all amazed.  She twirled.  She got to tell the story of her dress, including the "intended audience" and "impact".  Other students in the class typed messages about how beautiful she and the dress were right there in the google meet chat.  It was a sad moment turned into a little small victory.  It will certainly be a memorable moment in my pandemic experience," shared Ms. Bogrand.
Kenwood Business teacher Ms. Page teaches three different business and marketing classes. She shares, "The things I find good are that students can work at their own pace, students who do everything right (as far as doing their work and trying) are not disrupted by students who are not doing the right thing. Being late to class and being on the cell phone are not issues,  being sleepy or bored (by the subject) are not issues, and being able to eat, drink, etc. are not issues for the students anymore." Many distracting behavior issues are now longer an issue for the teacher or other students.
But just as there are benefits to this kind of structure many students have also mentioned missing the interaction with their friends and the teachers.  Many are bored just staying at home and they miss school. Various students share that their sleep habits have been disrupted by playing video games or other technology like binge watching.  They miss direct instruction–being in a class room, doing the same work at the same time,  and one of the most common things they miss that they realize they took for granted is teacher feedback.  "If I'm having trouble I can't ask a teacher for help right then and there. I have to wait sometimes hours for feedback," shares junior Kara Smith.  When a student has a question, they have to email the teacher or wait to go on the Virtual Meeting to get the answer, but then they have to go back and find their assignment and finish. For many written directions still aren't as easy to follow as the teacher showing them. Some students like Stephen Bonilla just aren't fans of computers and devices. "I'd much rather do my work with a paper and pencil," he shares.
But overall students have really persevered through this experience. Ms. Glenn shares, "I'm very impressed with how many students have adapted to this sudden change. There is some serious learning take place here that doesn't have anything to do with our particular subject matters. Kids are having to exercise self-discipline and time management to self regulate their workloads all on their own. They're becoming more adept at using technology they have been resist to using before because now there's no other option. They're learning to be flexible and patient. These are soft world skills that they all need going forth so there is definitely valuable learning taking place through all of this." Many like working at their own pace where they can work when they feel motivated to do it which for some are late hours of the night or wee hours of the morning. Many love not having to set an early alarm while others miss the structure of an alarm to start the day. This flexibility has allowed for students that often have attendance issues or that work a lot to "have the freedom that I don't have to worry about missing a class period because I can always log in and complete my work when I'm free," shared a working junior student.
The loss of social interaction worries some.  Senior Shantell Lindsay worries, "I fear what the lack of social contact might do to people." We often criticized this generation for their dependence on technology and lack of social skills and now they're thrown into a world where their only connection to the people outside their homes are through a screen. Many are missing their people of Kenwood right now.  "I find that teaching remotely is not as easy as I had thought it would be when we left in March.  I miss the students, faculty and staff, and the routine as well," shared Ms. Page.
Students have had to find their own strategies to make this new learning work for them. Junior Kaylee Roth's strategy each Monday is to color code a calendar for herself of what needs to be done and when she should plan to do it by Friday's deadline. She shares the valuable advice too that, "The hours I work on school fluctuate each day. Some days I work until 3 but others only noon. I usually work until I feel like I'm not going to post quality work anymore."
Junior Xavier Smith breaks his work down into two classes a day or, "A day classes one day, B days classes another day, and Sollers the third day." Others though like senior Christie Weche take the approach of tackling the easiest work first and then the most difficult last.
There are a lot of split feelings on this experience. Fortunately or unfortunately, depending on how you feel about the distant learning experience, we're all going to get a lot more time to weigh the pros and cons of this distant remote learning experience.