Senior Inauguration Motivates Students on the Final Stretch of High School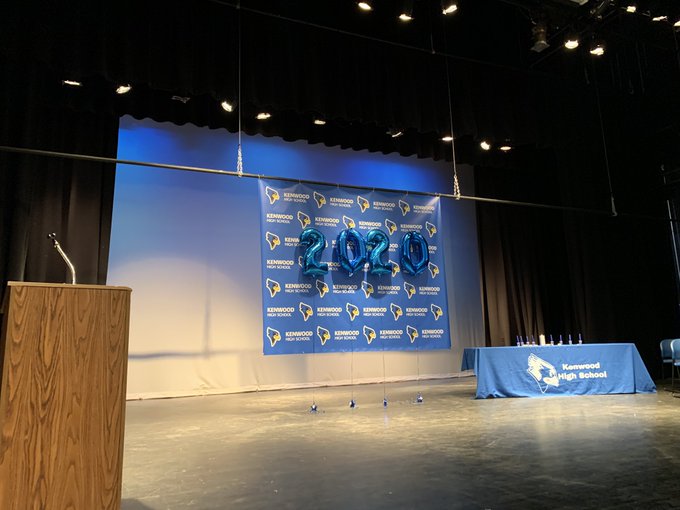 Alexia Crook, Senior
February 14, 2020
This year's 2020 Senior Inauguration was held on December 10 in the auditorium. Mr. Powell, the Kenwood Principal, brought the idea of this senior ceremony to Kenwood four years ago when he became principal. This year's senior class of 2020 is the class Mr. Powell began his principal career with back in the Fall of 2016. Mr. Powell shared, "Kenwood never had a Senior Inauguration and I wanted something special for students and parents to be a part of their senior year."
The Senior Inauguration is a ceremony to celebrate and to remind seniors to stay motivated to get everything done in order to graduate in June. That final stretch of students' school careers from the holidays to May is sometimes the hardest stretch to stay motivated to finish their education strong so the Inauguration serves to remind seniors they can put in the work and effort to do what must be done to walk across that stage in June. About 80 seniors attended this year's Inauguration.
Senior Brianna Jackson attended this year's Inauguration and mentioned, "I found it important because it was an encouragement to the other seniors and myself to motivate us to keep going to graduate." Seniors are almost there but not yet so they must keep up a strong work ethic.
To prepare for the ceremony senior advisors, Ms. Gray and Mr. Keener, prepare for the program by first tracking down motivational guest speakers. Ms. Gray stated, "Mr. Keener and I contact guest speakers and plan the program.  The AFJROTC participates with the color guard and, this year, the dance/step team performed.  The class officers also take part in the ceremony, describing the qualities of excellence of the Kenwood Bluebird community.  The ceremony ends with the entire senior class reciting the Senior Pledge." This year the senior class was honored to have former KHS staff members David and Andrea Brown address the Class of 2020.  They offered seniors suggestions for fighting the deadly disease of lack of motivation called "senioritis."
Ms. Gray shared, "We invite guest speakers that we feel can share an important message with seniors about the importance of maintaining effort to get through their last year of school."
To reach senior year and graduation is a huge lifetime milestone yet between student service learning hours, testing requirement, and earning those last few credits there is still much to be done up until the end so don't lose your motivation yet, seniors! We're almost there so give this last final stretch all you've got and we'll see on at graduation on June 8.
About the Writer
Alexia Crook,
Alexia is a senior and this is her first year writing for The Eye of the Bluebird. She plans to attend CCBC in the Fall before transferring to Towson University...