Another Great Bluebird Soccer Season Comes to a Close
Though the fall soccer season has been ended, it was a good season for our boys and girls' soccer teams. Some people may think that high school sports is just about playing games and getting victories, but these teammates often find a family away from family on the playing field. Both teams enjoyed every bit of this fall season.
The girls varsity finished the season with a 10-2 record, while the boys finished with a 7-3-2 record. The girls' top player of the season was Dani Lassahn and Mason Duggins was the standout player for the boys season.
Mason Duggins led his team to many victories this fall. "Having the captain role this year let me have a big impact on leading my team to show them what's going wrong on the field and encouraging them to play better even when I'm off the field."
Boys varsity coach Kingsley shared, "The boys had a special year. The team boasted 9 seniors who I am grateful for and a few underclassmen who stepped up tremendously. There was great energy from the first day of pre-season to the last kick on the season. I am very proud of the team this year and what they bought to the Kenwood soccer program and the standard they set for many years to come. Thanks to all my seniors and best of luck in your future endeavors."
Honoring seniors is a long-standing tradition of the high school sports scene. Even not as a senior players find senior night a memorable night. "One of the best memories I've had with the team was the senior night game and making posters and setting things up to honor the seniors. It was really nice"- shared girls varsity player Ruby Solorzano. It's great opportunity for freshman, sophomores, and juniors to honor the efforts and work of the senior varsity players. The girls' soccer team lost four seniors in Jade Napora, Jordan Haack, Yahaira Saenz and Sydni Maul, but will have many returning players next year from this year's young squad of five current freshmen and three sophomores so the strong girls Bluebird soccer tradition of the last few years looks to continue in the future.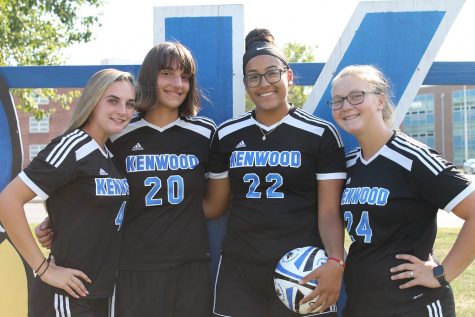 Though the fall season is now behind us, the underclassmen returning next year are looking forward to another great season.