Kenwood Brings Back Sustained Silent Reading to Class
Jermala Thomas, Sophomore
October 30, 2019
Hang on for a minute...we're trying to find some more stories you might like.
Years ago, back in our parents and teachers' day SSR, sustained silent reading, use to be a regular occurrence but has been abandoned for some time now. However, over the last two years Kenwood English department and library have been working on bringing this trend back to the English classes of Kenwood. SSR or sustained silent reading is when you read for a certain amount of time in your English classes with a book of your choosing. This is a new strategy that is becoming a common trend for the students at Kenwood High School this year.
Mrs. Levy, along with Dr. Lobo, took the lead last year in implementing SSR as a daily activity in their classes. "I started doing SSR in my classes because I saw that many students hadn't read a book for pleasure in many years, if ever, and I wanted them to have the opportunity to see how engaging and relevant books can be. When we are having them read in class, it is usually on books that teachers have chosen because they work well for the curriculum or because we personally find them engaging. I wanted students to spend time reading their own books in class so that they had the time to get into a book, which would hopefully encourage them to also start reading outside of class."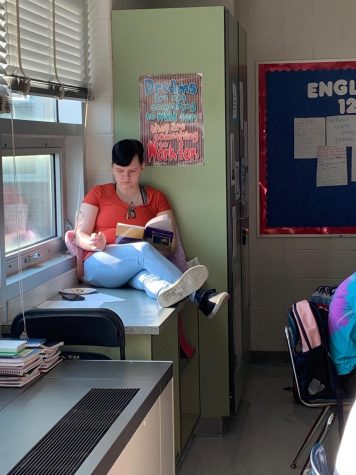 Though some students may claim they don't like to read period or have never read a book they like, Mrs. Levy takes it on as a personal challenge to find them a book that they will love. "I've been pretty successful, and it's great to see students excited about reading and talking to their friends about what they are reading. Thanks to our very own Dr. Lobo, I also took his idea for book talks in my classroom. This allows students to share what they've been reading and why they are liking it, which helps other students decide on books that they want to read next," she shared.
Research shows that students perform better on standardized tests when they spend more time reading, yet we so rarely give students time to actually sit and read in class. The 2018-2019 school year was the first year that English teachers like Mrs. Levy and Dr. Lobo implemented SSR for the first 10 minutes of every class, and Kenwood saw gains of over 13% in their PARCC scores in the Spring of 2019. Mrs. Levy believes, "SSR is one of the contributing factors to that success, and I'm excited to continue doing SSR with students this year."
The goal is to engage and interest students more in reading. Our librarian performed a survey on the students that were participating in the SSR movement in their English classes last year. Through the survey she concluded that SSR in English classes have made a positive impact on the students. Survey results showed that 72 students selected that reading at the beginning of class during SSR time helped them be more focus before getting into the daily lesson the rest of the class period.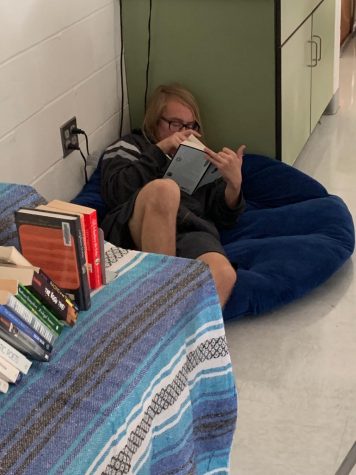 The survey also showed that 45 students found that after reading they tended to feel way more relaxed than they did before. Whereas, last year only a few English classes began participating in SSR, this year all English classes are jumping on board with participating in this new strategy. In September 31 English classes visited the library to check out a total of 777 books to KHS students for students to read during their English classes.
Kenwood's librarian Ms. Magnuson has found that there are many benefits to having SSR. "It has shown that the students' writing skills have improved very much. And it gives the students opportunities to see the world through another's eyes. Reading also helps students create empathy for others."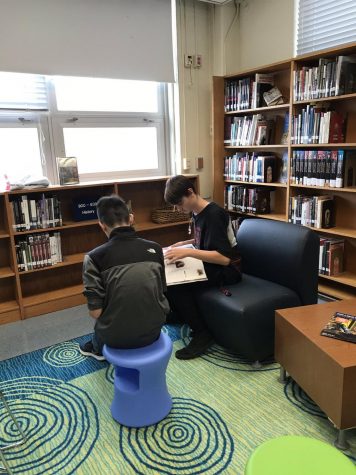 Students in classes like Ms. Levy's Honors English 10 and Dr. Lobo's Honors English 11 start the class period with SSR. "I like being able to read at my own pace," shared sophomore Linda Neewary of Ms. Levy's class. "Then at the end of every quarter we have to give a two minute book talk about our book to the class."
Students in Ms. Blackert's English 10 class recently participated in book conferences, another idea of Mrs. Levy's to engage students in their books. Students sat down one on one with Mrs. Blackert to discuss not only the characters and themes of their books but how the books they're reading has altered their perspective of the world they live in.
The school wide English department return to SSR is a hopeful move to interest students in reading and widening their lense of the variety of experiences that can be gained from being an avid reader.