The International Baccalaureate Diploma: Academic Readiness for the 21st Century
Luvia Thomas, Junior
November 29, 2018
Hang on for a minute...we're trying to find some more stories you might like.
Magnet programs are one of the many things in high school that help students navigate their way throughout life after they graduate by offering a specialized curriculum.
Magnet programs such as graphic communications, cosmetology, and International Baccalaureate are some of the many choices students can pick from across Baltimore County Public Schools. But unlike many of the other straightforward programs, the International Baccalaureate program is one of most globally competitive. Kenwood High is one of only soon-to-be two schools in Baltimore County to offer this unique magnet program.
International Baccalaureate, or IB for short, is a magnet program whose purpose is to prepare students for college and expand their thinking on a global level. Students gain experiences to be globally prepared by participating in activities that require a lot of critical thinking. Instead of just answering the "what," IB students are prepared through Kenwood's IB Program to answer the "how" and the "why." Since IB is an international program, it also offers students the opportunities to connect with other students around the globe.
The IB program offers eight classes for students to select as part of their program. The eight courses consist of history, visual arts, mathematics, psychology, foreign language: Spanish or French, and English literature. The key thing differentiating IB classes from standard courses is they are college level courses. While it may be a bit strenuous handling assignments at a college level in high school, being a part of IB Program makes things easier in the long run.
"Some of the benefits graduating from Kenwood's IB Program is students go into college well prepared and less stressed academically. Some students can even go into college with up to 30-32 credits," said Tara Spinelli, Kenwood's IB Magnet coordinator. These students leave Kenwood's IB Program well prepared for college and beyond.
Kenwood's IB courses encourage independent research and thinking. Often students choose their own research topics to investigate to allow them to truly take ownership of their own education. The IB CAS (Creativity, Activity, and Service) project allows students to have a positive impact on their community. IB students also take a course called Theory of Knowledge that is unique to the IB program. It centers around the questions "What do we know? And how do we know it?"
Year after year, Kenwood graduates come back sharing how prepared they were for college thanks to their participation in the IB program. They are enjoying the college experience even more because they developed the skills to study and complete school work during their time in Kenwood's IB Program.
2018 IB graduate Brittany Richardson felt Kenwood's IB Program prepared her well for college and future veterinary goals. "I would recommend this program because it really benefits the students in a variety of ways. Students learn what a college course loads could be like, they learn the rigor of said course, they develop a better understanding of complex topics, and most importantly, they develop a love for learning. Despite the sleepless nights and emotional breakdowns, the IB program is one of the reasons I am succeeding in college," she said.
Richardson also adds that Kenwood's IB program has helped her with college in general. "Biology and Math are easier for me now due to taking the IB course-load. I am succeeding in both of those areas, as well as others, due to the background that IB provided me."
Because IB is a magnet program, students cannot apply to the program past their sophomore year. But never fear, latecomers: although you can't be a part of the IB Diploma Program, that doesn't mean you cannot experience the classes first hand. While a majority of the common core classes are reserved for the members participating in IB, many classes including psychology, visual arts, and foreign language are all up for grabs for regular students.
About the Contributors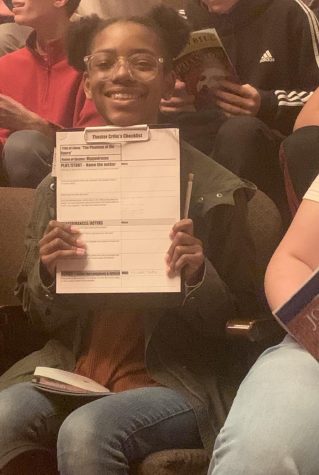 Luvia Thomas,
Luvia is a senior at Kenwood High School. This is her second year working on the school newspaper. She is also a part of the Kenwood Drama Club. Luvia...