Top 5 Cost Effective and Cute Halloween Costumes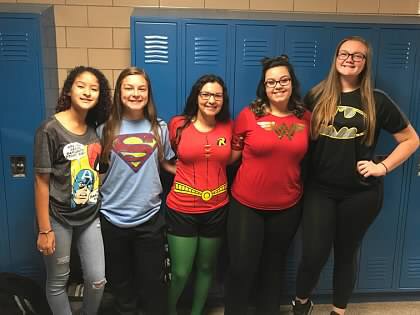 Autumn Blackwell, Junior
October 23, 2018
Filed under Features
Hang on for a minute...we're trying to find some more stories you might like.
No matter how old we get, we're never too old or too cool for candy and Halloween parties. But what do you do when it's a week before Halloween and you STILL have nothing to wear? Well, here are just a few last-minute, easy Halloween costume ideas.
1. Film-Inspired
Have a favorite film you've always loved? Dress as your favorite character from the movie. Hit your nearest Party City and get all the pieces you need!
2. Superhero
This is a classic! Anyone can be a superhero! Find a basic tee shirt and make your favorite superhero's logo. Be creative! Use your imagination, and create your own. Be whoever you want to be for the night.
3. Pretty Kitty
This is an all-time favorite. Cat ears are available at Dollar Tree. All you really need is an eyeliner pencil (which you can probably find your mom's makeup bag). Draw on a nose and whiskers and now you're a purr-ty kitty!
4. Nerd
Being a nerd is silly, AND cute. You can have a lot of fun with this one! Dust off your old nerd glasses from 2010, and pull out all the mismatched clothes you can find, and call it a day.
5. M&M
Who DOESN'T love M&Ms? Get your favorite color tee-shirt, and cut out the M&Ms logo in large paper. Tape it onto your shirt, and voila! You're all ready for trick & treating!