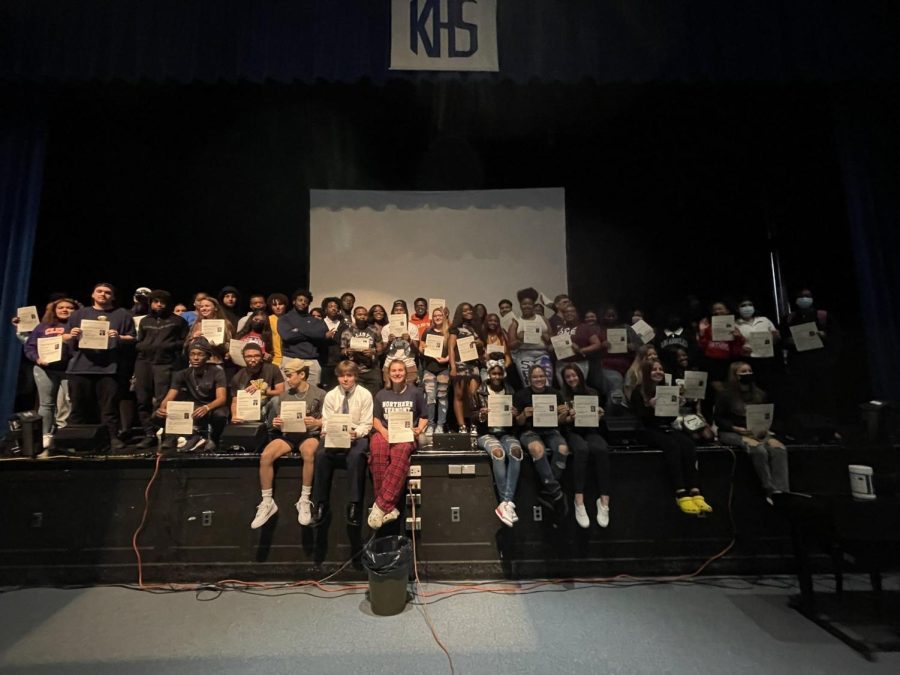 It is here-the end of senior year! It can feel like this moment is never going to get here and then it's suddenly here. Seniors last final is scheduled for Monday, May 16 with make up finals following next Tuesday and Wednesday so within the next week seniors will walk these halls to class for the last time.
Kenwood senior Riley M shares, "I feel a sense of excitement but also a bit of sadness too." Tonight, May 13 seniors will attend their senior prom at the Baltimore Museum of Industry from 8pm-12am. Earlier this week on Monday seniors attended the SADD sponsored Prom Promise assembly about making smart choices as they close out their senior year with the much anticipated senior events that are to come.
Kenwood High's senior advisors, Ms. Gray (former Kenwood teacher) and Mr. Keener are responsible for the planning of senior events every year. Every two weeks they come together and brainstorm exciting ideas to make seniors' last year of high school a memorable experience. Due to COVID there hasn't been a full calendar of senior events since 2019. Mr. Keener adds, "We're excited to finally be able to do something for the seniors."
Planning these big events is no easy task. It's a lengthy process. Mr. Keener who's in his sixth year of planning senior events adds, "Depending on the magnitude of the event, planning and verifying can take anywhere from 10 days or 2-6 months." After prom tonight, seniors will attend their Farewell Assembly next Thursday May 19 before they all come together one last time for graduation on June 10 at Towson's SECU Arena at 7pm.
As their four years come to a close seniors are also preparing for their next steps after they leave high school. On May 2 seniors attended a Senior Signing Day. Kenwood's AVID teacher Ms. Komorowski shares, "The AVID class has received over $3.8 in college scholarship offers and has had over 100 acceptances across 25 students!" Kenwood also had nine student athletes sign letters of intent to play their sport at the collegiate level.
It's an exciting and busy time of the year for our Class of 2022, and wherever their next steps leads them we wish them the very best as they fly the Bluebird nest!