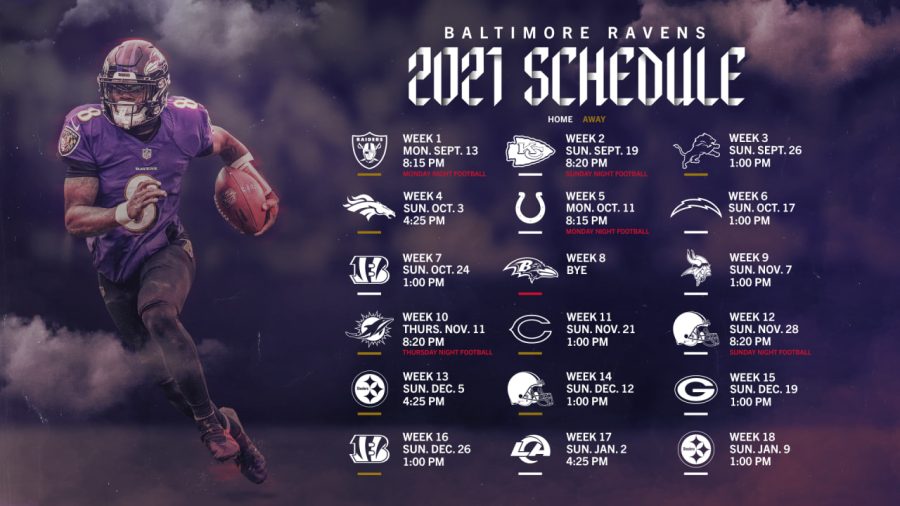 Image provided via Baltimore Ravens
As we head into the Thanksgiving weekend, which is traditionally a big weekend for football so far through the season the Ravens sit at 7-3 and are leading the AFC North and are currently the 4th seed.
To think that this is where they are after all of the injuries and the horrible loss to start the year, this is a huge surprise and a huge success. Lamar Jackson has propelled himself into MVP conversations the past four weeks and John Harbaugh has made himself into a front runner for Coach of The Year.
A lot of guys have gone down for multiple weeks or the whole season which includes, blocking TE Nick Boyle, rookie G Ben Cleveland, stud sophomore RB JK Dobbins, power RB Gus "Bus" Edwards, tackling machine LB LJ Fort, All-Pro CB Marcus Peters, All-Pro LT Ronnie Stanley, run stopping DE Derek Wolfe, and speedy WR Sammy Watkins. With all of this we've also had a lot of bright spots which include Pro Bowl TE Mark Andrews (ranked as the 17th best pass catcher thus far), CB Anthony Averett who has done a nice job filling in for Peters, speedy WR Marquise Brown who has fixed his drop issues for the most part (Ranked as the 25th best pass catcher thus far), S Chuck Clark who is having an extremely underrated season and has lined up at every position on defense except NT, S Deshon Elliott who is now learning how to cover which makes him even more valuable, QB Lamar Jackson who was already a top 10 QB but has jumped into top 3 and ranks 10th in passing and 7th in rushing, and rookie Sensation Odafe (Jayson) Oweh who has had some huge plays thus far.
This team has been special so far so the only question is can they sustain this for the rest of the season? I believe the offense can continue to dominate but the defense may not be able to hold others under 25 consistently but the communication seems way better and they seem way more disciplined.
Avid Ravens fan, Nathan Kennedy, says he feels good about the Ravens chances this season.  "Lamar Jackson is having another MVP type season." However he doesn't feel as positive about the defense. He adds, "The secondary has been bad this year and the linebackers have been so bad they have come out in defensive sets with no linebackers." But despite the defense he still expects this team to win around 10-13 games, "It should lead to a playoff berth and likely a quick exit if the defense can't figure it out."
Ravens super fan, Isaiah Jones, feels like the season is a success despite the setbacks says, "We still continue to look like a serious threat in the AFC. Lamar has taken tremendous strides in the passing game which in effect has caused the rushing game to regress slightly." He also sees the defense as what's holding the team back. "For the most part it has been the weak point of this team giving up 400 yard performances to Joe Burrow, Derek Carr, and Carson Wentz. The defense is very inconsistent in performing well in certain areas in certain games but never all at the same time aside from the Chargers game." He expects the Ravens to continue and have a  surge the second half of the season. "I expect us to make a deep playoff run and be a real threat in the AFC to win the conference."
The Ravens decided to not make any trades as they must believe that this team is good enough to win a Super Bowl despite the injury woes. It will be tough but they can do it for sure as nobody has emerged as the true number 1 so far but the Ravens and Bills are definitely the top 2 and the playoffs will most likely end up running through Baltimore or Buffalo. Baltimore's Thanksgiving weekend game will be the Sunday Night game verse the Browns. It'll be  a tough end of the season as none of their last few games are easy wins so this will make or break the Ravens as true contenders come playoff time in January.