KHS Welcomes Incoming Freshmen and Sophomores into the Building for BCPS Early Entry Day
High school is an exciting experience of one's life, and many kids look forward to that freshmen year to begin their high school experience. For Kenwood's 500 freshmen that day is finally here!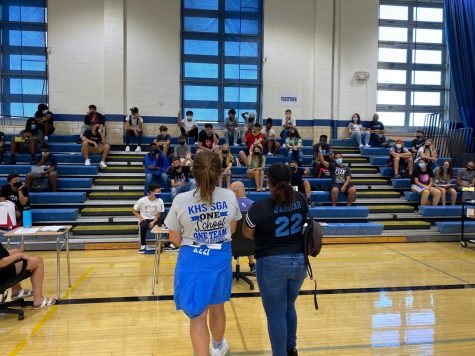 However, due to the closing of school buildings the majority of last year, many now sophomores missed out on the in person experience of their freshmen year so KHS welcomed around 600 freshmen and sophomores into the building today, August 27, for their first day of high school!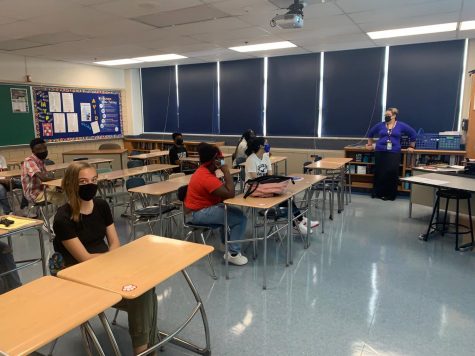 Students mature and grow so much in their four years of high school. High school is a time for students to explore career options and their interests, which KHS offers plenty of opportunity for through their various CTE programs, elective courses, and after school organizations. During the 9th and 10th grade lunch during early entry day, students had the opportunity to learn more about the variety of organizations and sports KHS offers.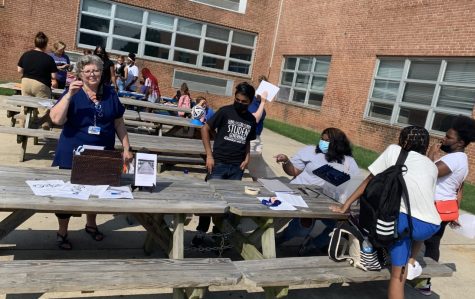 High school can be stressful, but it can also be so memorable. It may seem like four years is a long time but these four- three for sophomores- will fly by faster than students can believe. There's no time to waste in living your best high school life experience. KHS upperclassman, Blessing K, reminds younger classmen, "I would tell incoming freshmen and sophomores new to high school to join more sports and clubs."

Ninth grade facilitator, Ms. Miller, was the planner behind today's successful Early Entry Day. "I lost count of orientations that I have facilitated and this one feels more exciting because the kids haven't been here in 18 months," share shares. With this being their first time in Kenwood halls students appreciated this extra day to learn their way around the building. "Today was cool. I toured around the school and met so many new people. I haven't been in school since the 8th grade, so it was a great chance to get use to being in a school building again," shared incoming sophomore Tabatha M.
Between meeting their teachers, interacting with their peers, and learning about KHS opportunities it was a fantastic return to in person school for Kenwood's new students. Sophomore Trinity N, who attended because she hadn't been in school since the eighth grade, really enjoyed the experience. "The day was nicely organized, and it was great meeting my new teachers. I saw old friends and already made new friends! It was a great day, and the best is yet to come!"
Several upperclassmen were in attendance to help the young Bluebirds acclimate to their new home away from home. Bluebirds that have had a little bit of high school experience hope to offer their new peers a little bit of friendly guidance. KHS upperclassman James B stresses to his younger peers, "Pay attention. You need as much help if you just pay attention and listen to what is asked of you the first time. This makes things so much easier for yourself!"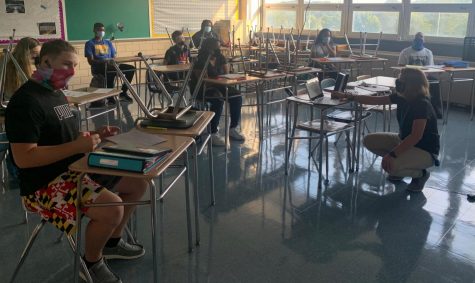 This was just the beginning for Kenwood's younger classmen but if today was any indicator, it's going to be a great 3-4 years at KHS!