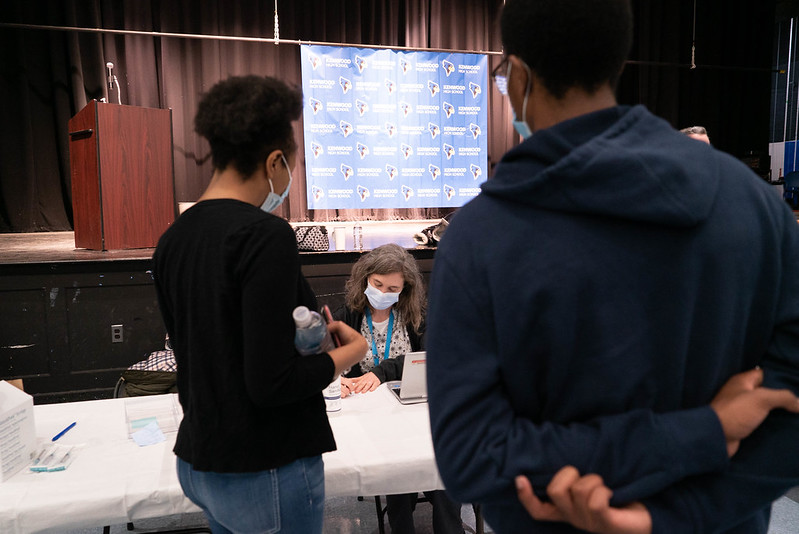 The Covid vaccine became available to the public right before Christmas. It gave people all across the world hope that maybe the end of this pandemic was in sight.
According to the Maryland Vax site, Maryland's plan for vaccine distribution consisted of five phases in which it would prioritize who got the vaccine first and who had to wait. On the site, it stated, "Phase 1A are all the health care workers, residents/staff of nursing homes, and first responders. Phase 1B was for assisted living, adults 75 and older, education staff, law enforcement and front-line judiciary staff," which is back when our school staff started getting vaccinated so we could return to in person learning. Now four months later, students as young as 12 can get the vaccine. For some, like Kenwood students, they can get it right in their school too!
The first dose of the Pfizer vaccine was available for students earlier this month on May 10, 12, and 13 between 9am-1pm. They will return on June 2 and 4 between 9am-1pm for their second dose. Any staff, students, and families 12 and older were welcome to sign up to get their vaccine right here in Kenwood auditorium but had to sign up to get both doses.
Kenwood's nurse Ms. Pam Lazzaro adds, "The governor and state superintendent wants as many students and families to be vaccinated as possible to increase the attendance in schools next school year, and to ensure the safety of our community." Superintendent Williams picked several high schools as sites for the Health Department to administer the vaccine.
The vaccine offers a positive path back to a sense of normalcy, but many are still cautious and uncertain of potential side effects and the long-term outcomes for the vaccines. Kenwood History teacher Mr. Williams shares, "I fear people may overreact due to possibility of side effects. Life will certainly get better and it will be interesting to see people with masks off once again! Some people will stay cautious for quite some time, even still bringing masks everywhere. Who knows what will come next?" Mr. Williams though is optimistic for the hope of the vaccine.
As more and more people across the state get vaccinated Maryland started lifting their masks mandates. In a recent press conference, Governor Hogan shared, "As our vaccinations continue to expand and our health metrics continue to improve, we expect to be able to take additional actions in the weeks ahead and to return to a sense of normalcy. However, I want to stress once again that the fastest way to put this pandemic behind us once and for all is for every single eligible Marylander to get vaccinated as soon as possible" (McCauley).
As of the end of May, Maryland has 48.2% of their population fully vaccinated against COVID and 70% of adults with at least one dose of the vaccine (McCauley).  As this school year wraps up, there's hope that maybe with the distribution of the vaccine available to all 12 years and up, we can look forward to a more normal school year next Fall!
Sources:
McCauley, Mary Carol. "Maryland hits key benchmark with 70% of adults having at least one COVID vaccine shot". Baltimore Sun. 31 May 2021. https://www.baltimoresun.com/coronavirus/bs-md-numbers-053121-20210531-putrm7ifg5gqnpuridkqbs2tri-story.html
"Welcome to the Maryland Vaccination Sign Up." Maryland Department of Health. Marylandvax.org. 2021. https://www.marylandvax.org/