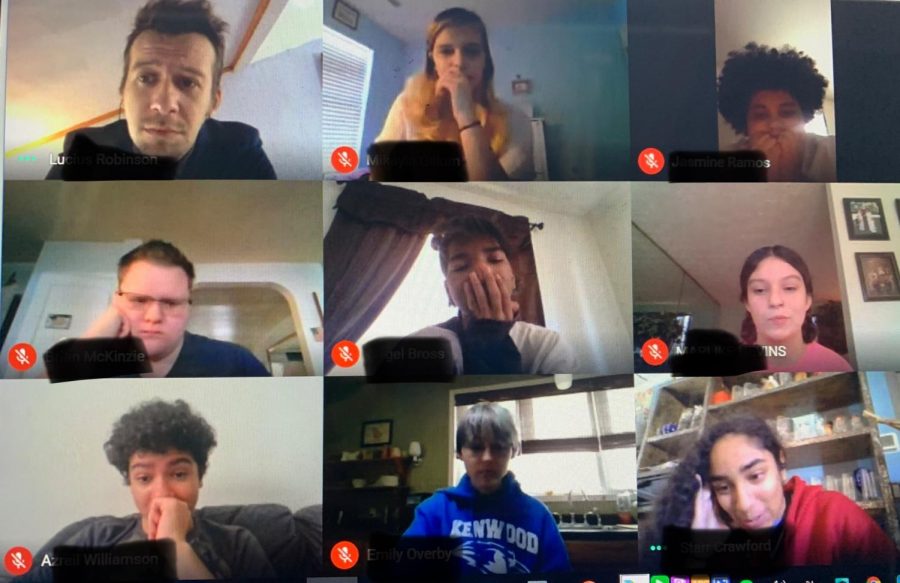 Making friends overall could be hard for some, but have you tried making new friends through virtual school? It does not sound like the easiest task!
Most teens are familiar with the internet and technology for connecting with their friends; it played a big role in their everyday life before the pandemic struck. Yet, none imagined there would a point where technology and the internet would be their ONLY way to connect and socialize with friends!
Using technology to stay in touch is one thing but to make new friends is another. Kenwood junior Starr C shares, "When you make an internet friend, you still want to be able meet them and make memories and experience things with them. But we can't exactly do that right now due to the lack of in person contact."
Art teacher, Mrs. Gavin is also having trouble with socializing and communicating with others in a virtual setting due to students "not having cameras on and not typing in the chat box during class." The lack of socialization makes building relationships in teaching difficult at times too, so it's not just teens making friends, but teachers miss building friendships with their students.
Communication and socialization can get lost during virtual school, but those that have found that they're willing to engage and step out of their comfort zone with turning on cameras and mic have found not only do they enjoy the class more but they're actually meeting new people! Mrs. Glenn shares though that she's seen friendships develop in her journalism class. "I had one student at the beginning of the course that always turned his camera on and used the mic rather than the chat box. Then it became two students. Each day it was like more and more were like I'm going to turn my camera on and talk too to the point that some days I had nine boxes filling my screen of my students' faces and I'd have to tell people to wait their turn to talk so they could listen to one another. Eventually by the end of the course they had formed new friendships by being willing to turn on their cameras and talk to one another," shares Glenn.
Some students that have been willing to be active participant in virtual school, have found that there are personal benefits. Senior Brian M shares, "If you're willing to participate you'll start to see that others are as well." Though we've missed our chance to connect and build friendships in our first semester classes at this point as we start a new semester soon it might be worth evaluating the benefits of making a socialization effort in our classes. Sophomore Jasmine R who was quiet at first found as she opened up in class. "I was able to connect with new people on school related things. Though you can still feel lonely in the virtual setting, I found I felt a little less alone in the experience when hearing that others feel the same."
Even with what little comfort and connection we can find in socializing in a virtual setting many would much prefer to connect with their peers and friends in person. "I prefer meeting people in person," shares Mrs. Gavin. When meeting people in person, she can have "more information about how they are feeling and moderate her responses accordingly". That's kind of hard to do when you can't always "see" the person in a virtual setting.
Kenwood student Hannah M missed making friends with her peers in class in person. "I find it harder to make friends with virtual school because everyone has their camera off and are muted 24/7!" It is hard to make new friends when you can't see or hear them!
Though senior Brian M is an active participant and does his best to socialize with his peers in class, it's still not the same. "Before the pandemic throughout my day I use to talk to lots of people but now I feel like I barely talk to anyone," he shares.
As if this pandemic hasn't messed up our year already, it effects our personal life has been deeply felt by high school age students. Everyone wants to keep their family and loved ones safe, but as teenagers we also still want to go out and hangout with our friends and boyfriends. But, unfortunately most of can't due to risking loved ones of getting sick, especially those of us with elders at home with us. This pandemic has been a killer on our social lives as teenagers.
Teens are losing touch with friends, an experience most don't experience until after high school, but now abruptly without warning teens have experienced it in high school rather than later in high school. It's often a part of growing up that adults caution about but it was a part teens thought they had until after high school to wait to experience.
Even as only a freshmen Azreil W is shocked by the loss of friends so early in his life. "I thoughts lots of people were my friends, but throughout this past year they ended up showing their true colors at some point."
You don't realize the bonds you form with people when you see them daily whether it's your coworker, peers in class, someone on the bus. "I used to talk to my friend that was even on the same bus as me but now I haven't talk to her since the pandemic started," shares Starr.
As a teenager dealing with how to cope with this pandemic, the way it has shaped or unshaped our friendships as been difficult to grasp. We have been dealing with this for close to a year now so it's hard to imagine those friends we haven't connected with in a year will be the same as they once were. Over the months we have matured more and more. It's not uncommon to eventually grow out of friendships and relationships, but we weren't quite ready or expecting it when the pandemic was looming on the horizon a year ago.
Social distancing is very stressful when all you want to do is be with your friends, but young people have given up their friendships to do their part.